Buttrio (Italy), Sunday 1 May 2016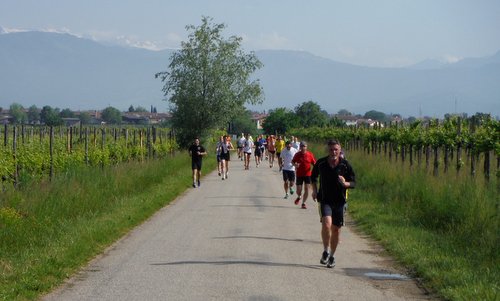 The Cognòssi par Cognòssisi is a marcia, a non-competitive event for runners and hikers. It's not a race. Prizes are awarded to the largest groups, not to the fastest finishers.
Starting and finishing in the village of Buttrio, which sits in a lovely wine-growing region in the Province of Udine in the north-east of Italy, the event attracts more than 3,000 participants every year.
Three very scenic routes are on offer, approximately 7km, 13km and 21km long.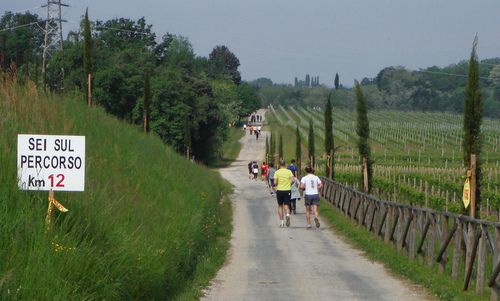 All routes are hilly loops on mixed terrain (asphalt, gravel and trails) through vineyards, woods, rural areas and pretty villages.
Participants can start off at any time between 9am and 9.30am but as a runner you'd better start at 9am as some trails can get rather crowded with hikers.
At the aid stations on the course you will be served some fine local delicacies. When we tested the event two years ago we were offered grilled sardines, salami, minestrone, red and white wine, fruit salad and more.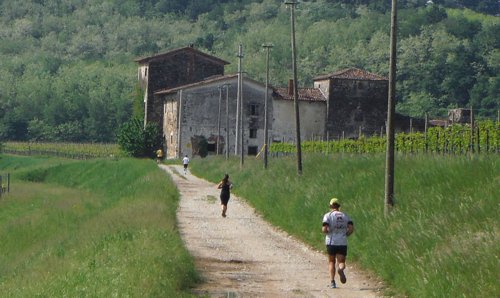 Country: Italy
Venue (Map): Buttrio (Udine 12km, Gorizia 28km, Trieste 60km, Venice 126km)
Date: 1 May 2016 (Sunday; Festa del Lavoro - International Workers' Day - public holiday in Italy)
Routes: 7km, 13km, 21km
Start time: 9.00 (until 9.30)
Entries: on the day in the start area (8.00-9.30)
Entry fees: € 3 (€2.50 for FIASP members)
You get: snacks and drinks on the course and at the finish
Timekeeping: No. This is a non-competitive event.
Prizes: product prizes to the largest groups
Award ceremony: at 12.30
Number of participants 2015: (?)
Number of participants 2014: 3,294
Event website (in Italian): www.podismobuttrio.it
No guarantee is made as to the accuracy or thoroughness of the information on this page.