69th Devin - Bratislava National Running Race 2016
Devín - Bratislava (Slovakia), Sunday 10 April 2016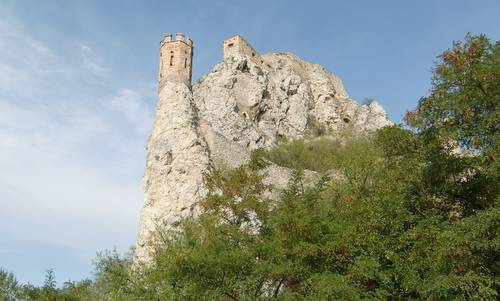 With 5,633 finishers last year, the Národný beh Devín-Bratislava is by far Slovakia's biggest single road running race.
Participants run 11.625km of an undulating course that begins at the impressive ruins of Devín Castle (pictured).
Built on a steep rock at the confluence of two rivers (the Morava and the Danube) on the border with Austria, the castle played a prominent role in the history of Slovakia, and it is regarded by many as a symbol of Slovak nationhood.
The finish line is on the left bank of the River Danube in the city centre of Bratislava.
Before the race, participants can use the free bus service from Bratislava to the start area at Devín Castle.
In 2015, the fastest finishers were Joel Maina Mwanga of Kenya (34min 16sec) and Zita Kácser of Hungary (40min 52sec).
The event also offers a 2.6km run for young athletes and recreational runners.
Country: Slovakia
Venue (Map): Devín - Bratislava
Date: 10 April 2016 (Sunday)
Start (2.6km Malý Devín): at 10.00 at Most Lafranconi (Lafranconi Bridge), Bratislava
Start (11.625km Hlavný beh): at 10.00 on the car park at the foot of Devín Castle
Finish: at the Cafe Propeler, Rázusovo nábrežie, Bratislava
Race centre: on 7 April and 8 April 2016 (12.00-18.00) at the 'Plaváreň Pasienky' swimming pool, Junácka 4, Bratislava; runners from outside Bratislava can pick up their bibs on the day of the race (7.00-8.00) on Kúpeľná ulica (near the finish)
Entries: online with payment by bank transfer (up to 3 April 2016); late entries on 7-8 April 2016; no entries on the day
Entry fees (2.6km; 15 years and under): € 6 (up to 3 April 2016); € 8 (up to 8 April 2016)
Entry fees (2.6km; 16 years and over): € 12 (up to 3 April 2016); € 15 (up to 8 April 2016)
Entry fees (11.6km): € 12 (up to 3 April 2016); € 15 (up to 8 April 2016)
Timekeeping: bib chip timing (included in the entry fees)
You get: an Adidas souvenir gift, medal, pre-race bus service from Bratislava to the start in Devín, transport of personal clothing from the start to the finish, refreshments on the course and after the race, free entry into the post-race prize drawing
Prizes (11.6km): to the fastest finishers and to the first three in each age group
Award ceremony: at 11.30 on Hviezdoslavovo námestie
Number of finishers 2015: 518 (2.6km), 5633 (11.6km)
Event website: www.devin-bratislava.eu
No guarantee is made as to the accuracy or thoroughness of the information on this page! Please visit the official event website to verify the above information.