Sunday 28 November 2021 - Cancelled! Virtual Run only!
The Národný beh Devín-Bratislava (National Run Devin-Bratislava) attracts a crowd of more than 5,000 runners, which makes it the biggest single road running race in Slovakia.
The route is 11.625km long and undulating, starting at Hrad Devín (pictured above), a ruined castle that sits spectacularly on a steep rock high above the confluence of two rivers, the Morava and the Danube. Situated on the border with Austria, Devin Castle is a truly impressive sight. It played a prominent role in the history of Slovakia, and it is regarded by many as a symbol of Slovak nationhood.
The finish line is on the left bank of the Danube in the city centre of Bratislava (pictured below).
Before the race, participants can use the free bus service from Bratislava to the start area at Devin Castle.
The event also offers a 2.8km run for young athletes and recreational runners.
Update 2021:
The event is usually held annually in April. This year, it will take place on 28 November.
The route will be 11.5km long.
Runners will start off in six waves with a maximum of 400 runners in each wave.
The entry limit is 2,400 participants for the main race and 400 for the 2.8km run.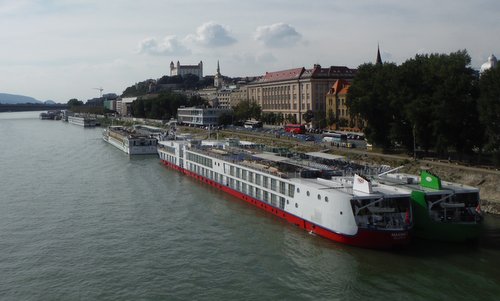 Map of the venue (blue: start; red: finish):
Number of finishers:
2020:
2019:

2.6km: 693
11.625km: 5,389

2018:

2.6km: 781
11.625km: 5,293
73. Národný beh Devín-Bratislava:
Date:
Sunday 24 October 2021

Sunday 28 November 2021

- Virtual Run only!
Event website:
No guarantee is made as to the accuracy or thoroughness of the information on this page.