Olbersdorf (Germany), Sunday 26 April 2015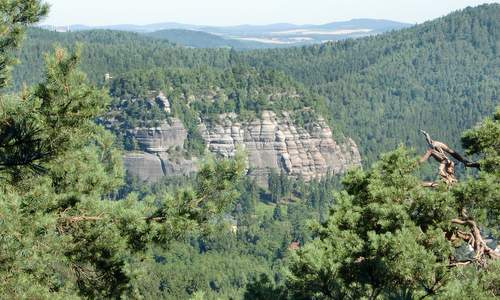 The Zittauer Gebirgslauf is held in the Zittauer Gebirge (Zittau Mountains), a stunningly beautiful small mountain range in the tri-border area of Germany, the Czech Republic and Poland.
The event offers a weekend of sports for runners, hikers, nordic walkers, inline skaters, and mountain bikers.
Runners can choose between four races — 4km, 7.5km, 17km, and 35km long.
All routes are very hilly, mostly on trails or gravel roads, starting and finishing at an elevation of approximately 300 metres in the village of Olbersdorf, which is near the town of Zittau.
The highest point on the 35km course is at an elevation of about 700 metres. The time limit to complete the run is 5hr 45min.
In 2014, around 1300 runners took part in the event.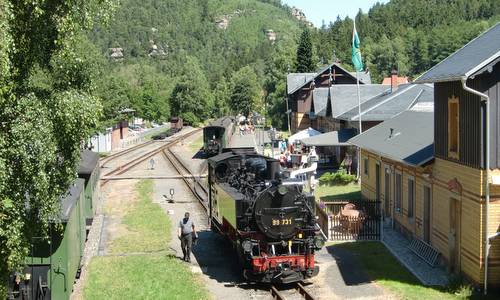 Many tourists travel by narrow gauge train into the Zittau Mountains to visit its lovely forests, fairy-tale rock formations, and picturesque villages.
Country: Germany
Venue (Map): Olbersdorf (4km from Zittau, 98km from Dresden, 135km from Prague, 205km from Wroclaw, 250km from Berlin)
Date: 26 April 2015 (Sunday)
Race distance: 600m (children 3-7 years), 4km, 7.5km, 17km, 35km
Start time: 9.15 (35km), 10.15 (17km), 10.25 (7.5km), 10.30 (4km); 10.35 (600m)
Start and finish: Sportzentrum Olbersdorf
Race centre: Sportzentrum Olbersdorf (Friday 15.00-18.00, Saturday 12.00-18.00, on the day from 7.00)
Entries: online with payment by bank transfer; late entries on the day
Entry fees (600m): € 1
Entry fees (4km): € 2/4/6 (up to 31 January/19 April/26 April 2015)
Entry fees (7.5km): € 5/8/10 (up to 31 January/19 April/26 April 2015)
Entry fees (17km): € 9/15/18 (up to 31 January/19 April/26 April 2015)
Entry fees (35km): € 13/18/25 (up to 31 January/19 April/26 April 2015)
You get: chip timing, finisher medal, massage service; participants can buy a technical T-shirt for € 7.95
Showers, changing facilities, baggage storage: yes
Prizes: to the first 6 men and 6 women in each category
Award ceremony: 12.00 (4km), 12.30 (7.5km), 13.00 (17km), 13.30 (35km)
Number of finishers 2014: 253 (4km), 502 (7.5km), 344 (17km), 147 (35km)
Event website (in German): www.zittauer-gebirgslauf.de
No guarantee is made as to the accuracy or thoroughness of the information on this page.