Soave (Italy), Sunday 4 May 2014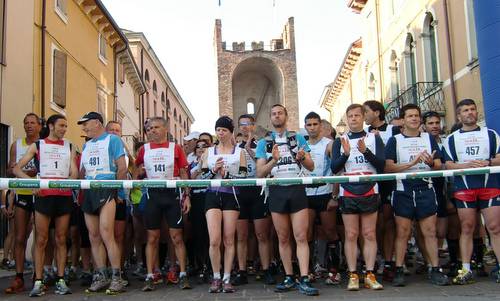 Held in the province of Verona in northern Italy, this beautiful trail running event offers two very hilly point-to-point races — 33km and 45km long.
Both races start off at 8am at the medieval 'Porta Verona' gate in Soave, a picturesque wine-producing village situated just over 20km east of the city of Verona.
The route is immensely scenic and very challenging as participants run northwards (and mostly uphill) to the small mountain village of Bolca.
The 33km race includes almost 2000m of elevation gain, and the 45km ultra marathon, which will be held for the first time this year, even more — about 2400m!
Most of the route is on trails and gravel roads. Some sections are on asphalt roads.
The finish line is at 800m above sea level at the outstanding 'Museo dei Fossili', which is well worth a visit for its beautifully-preserved 50-million-year-old fish fossils.
The time limit to complete the course is 6hr 30min for the 33km run, and 8hr 30min for the ultra marathon.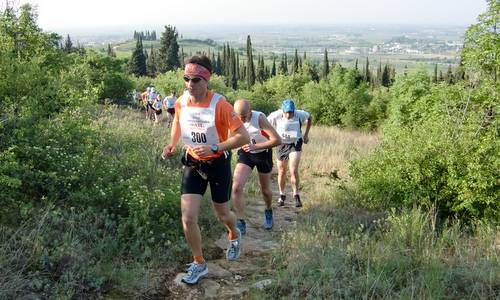 Race report, photos and results:
Race information: 6. Trail Soave-Bolca 2014
Date:
Country:
Venue (Map):
Soave (23km from Verona, 64km from Padova, 97km from Venice
Race distance:
33km (+1950m)
45km (+2400m)
Start:
at 8.00 at Porta Verona, Soave (elevation: 30m above sea level)
Finish:
at the Museo dei Fossili, Bolca (elevation: 800m above sea level)
Entries:
by fax or e-mail
entries close on 30 April 2014 or when the race limit of 500 runners has been reached
entrants must provide a medical certificate at registration
Entry fees (33km):
€ 20 (up to 13 April 2014)
€ 25 (up to 30 April 2014)
Entry fees (45km):
€ 25 (up to 13 April 2014)
€ 30 (up to 30 April 2014)
Bib pick-up:
in the start area (from 6.30)
You get:
pasta party (on Saturday)
pre-race breakfast
transport of personal clothing from Soave to Bolca
snacks and drinks on the course and at the finish
medal
fleece blanket
goodie bag
two bottles of wine
pasta party after the race in Bolca
bus service back to Soave
Prizes:
33km: product prizes to the first 20 men and 10 women
45km: product prizes to the first 10 men and 5 women
Award ceremony:
33km: at 12.30
45km: at 14.30
Number of finishers 2013:
Event website:
No guarantee is made as to the accuracy or thoroughness of the information on this page.