Schmiedefeld am Rennsteig (Germany), Saturday 25 May 2013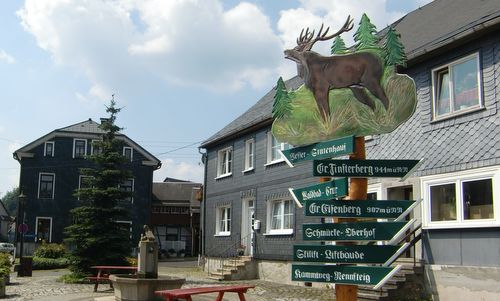 Germany's largest trail running event, the Rennsteiglauf, attracts approximately 15,000 runners, hikers and nordic walkers.
In 2012, over 2500 athletes completed the Supermarathon (72.7km), about 3400 took part in the Marathon (43.5km), and 6000 ran the Half Marathon (21.1km).
All routes are very challenging point-to-point courses, mostly on trails.
Participants run along the Rennsteig, Germany's most popular long-distance hiking trail, which follows the ridge of the Thüringer Wald (Thuringian Forest), a wooded hill range in Central Germany.
All races finish in the resort of Schmiedefeld am Rennsteig, situated on the ridge, at an elevation of about 700 metres. The supermarathon starts off in the very pretty old town of Eisenach, the marathon in the small town of Neuhaus am Rennweg, and the half marathon in the winter sports resort of Oberhof.
The Rennsteiglauf is not only popular for its beautiful scenery and great atmosphere on the course but also for its parties before and after the race.
Country: Germany
Venue (Map): Schmiedefeld (Leipzig 188km, Frankfurt 221km, Munich 326km, Berlin 350km)
Date: 25 May 2013 (Saturday)
Race distance:
72.7km (+1470m/-969m)
43.5km (+637m/-706m)
21.1km (+282m/-391m)
Start (72km): at 6.00 in Eisenach (210m)
Start (43km): at 9.00 in Neuhaus am Rennweg (820m)
Start (21km): at 7.30 in Oberhof (820m)
Finish: Schmiedefeld am Rennsteig (711m)
Entries: online or by post; late entries on the day (entries to the half marathon close 30 Apr 2013); entrants from foreign countries without a bank account in Germany or a credit card can pay the entry fees in cash in the race centre
Entry fees (72km): € 50/53/57/60 (up to 31 Dec 2012/28 Feb/30 Apr/25 May 2013)
Entry fees (43km): € 40/43/47/50 (up to 31 Dec 2012/28 Feb/30 Apr/25 May 2013)
Entry fees (21km): € 39/42/44 (up to 31 Dec 2012/28 Feb/30 Apr 2013)
Timing: ChampionChip - use your own chip or rent a chip for € 5 (€ 25 deposit)
Race centre: at the start of each race (on Friday 24 May, and on 25 May before the race)
You get: a meal (on Friday in the start areas); transport of personal clothing from start to finish; finisher T-shirt (72.7km); finisher medal; certificate; free shuttle bus service after the race from Schmiedefeld to Oberhof (21km); bus service to the start areas (not included in the entry fees); accommodation option in sports halls and schools
Showers and changing facilities: at the finish in Schmiedefeld
Award ceremony: 11.00 (21km); 14.00 (43km and 72km)
Number of finishers 2011: 2551 (72km), 3415 (43km), 6018 (21km)
Event website: www.rennsteiglauf.de
No guarantee is made as to the accuracy or thoroughness of the information on this page.