Treviso (Italy), Sunday 3 March 2013
To celebrate the 10th anniversary of the Treviso Marathon, which will be held in early March 2013, the race will start in three different places in the Veneto region in northern Italy. The routes will meet at the 23-kilometre mark and then run together to the finish line in the city centre of Treviso.
The fastest men will start in Vittorio Veneto, the town that has hosted the start for several years. The fastest women will be started in the village of Vidor, and the wheelchair athletes in Ponte di Piave. Ordinary runners can choose their start area when they register for the race.
All routes are flat and fast and AIMS-certified. Most of the race will be run through agricultural land and villages on the vast Venetian Plain. The last part of the course will take runners through Treviso's attractive old town with its picturesque canals, waterwheels, churches, piazzi and palazzi.
In 2012, the fastest finishers were Michael Kasis Chemchir of Kenya (2:15:06) and Daniela Cârlan of Romania (2:39:20).
Race report and photos: 7. Treviso Marathon 2010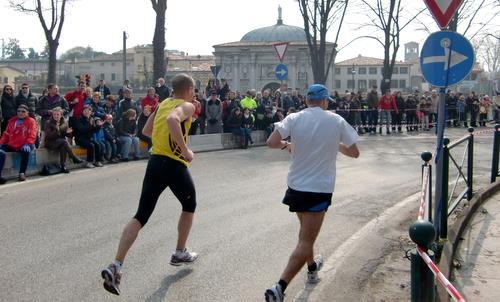 Country: Italy
Venue (Map): Treviso
Date: 3 March 2013 (Sunday)
Race distance: 42.2km (AIMS/IAAF certified)
Start (green route): 9.45 in Vidor
Start (white route): 9.45 in Vittorio Veneto
Start (red route): 9.45 in Ponte di Piave
Finish: Treviso, Piazza del Grano
Entries: online or by post or fax; entries close 24 Feb 2013; race limit 4500 runners; entrants may have to provide a medical certificate at registration and pay an extra € 7 if they are not members of a recognized athletics club
Entry fees: € 32 (up to 31 Oct 2012), € 37 (up to 31 Dec 2012), € 42 (up to 16 Feb 2013), € 48 (until 24 Feb 2013)
Race centre: marathon expo in Treviso (Friday 28 Feb 13.00-19.00; Saturday 1 March 10.00-19.00)
You get: goodie bag, chip timing, shuttle bus/rail service from Treviso to the start (before and after the race), transport of personal clothing from start to finish, finisher medal, massage service at the finish
Prizes: (?)
Number of finishers 2012: 2051
Event website: www.trevisomarathon.com
No guarantee is made as to the accuracy or thoroughness of the information on this page.