Vittorio Veneto - Treviso (Italy), Sunday 14 March 2010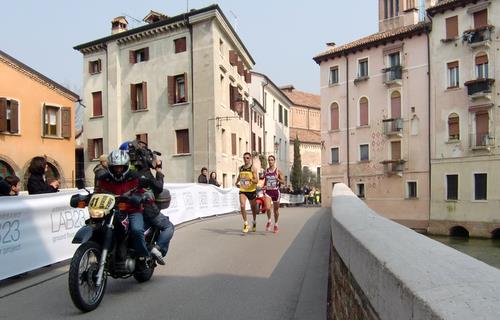 Half a mile to go. The leaders shoulder to shoulder...
Held on a crisp and sunny day, the 7th running of the Treviso Marathon saw 2,224 athletes crossing the finishing line in the city of Treviso in north-eastern Italy.
The start of the marathon is in Vittorio Veneto, a pleasant city located approximately 40 kilometres north of Treviso at the foot of the Venetian Prealps. The course is very fast as it drops about 120 metres in elevation over the 42.2 kilometres. The race ends in the Old Town of Treviso, which is just about 30 kilometres north of Venice.
The route across the densely-populated Venetian Plain is not extremely scenic but runners who are still able to look left and right after 40 kilometres see plenty of magnificent villas along the road into Treviso.
At the 41km mark participants enter the Old Town to run through a labyrinth of narrow and twisting streets inside the 16th-century town walls. At this stage of the race, few runners notice all the beautiful canals, waterwheels, churches, piazzas and palazzos along the course, but they surely feel the pain in their legs when running on the cobbles.
The men's marathon had two winners. Ottaviano Andriani and Daniele Caimmi, both of Italy, celebrated victory together after finishing shoulder to shoulder in a time of 2:12:49 (pictured above).
On the women's side, Amelework Fikadu Bosho of Ethiopia secured victory in 2:33:09, which earned her 13th place overall. She beat Emily Perpetua Chepkorir of Kenya and last year's winner Laura Giordano of Italy by more than two minutes.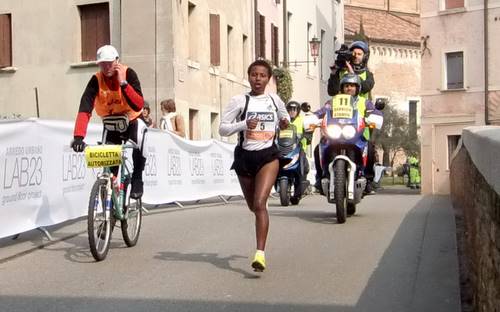 Amelework Fikadu Bosho of Ethiopia, Treviso Marathon winner 2010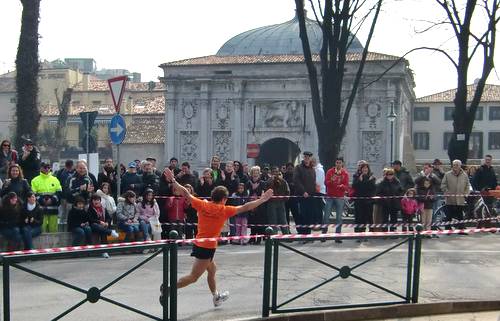 He won as well.
Back to: