Wörthersee Halbmarathon — Kärnten läuft 2013
Velden - Klagenfurt (Austria), Sunday 18 August 2013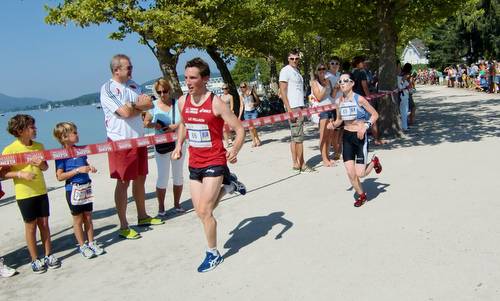 Every year in mid-August, Kärnten läuft ("Carinthia runs"), together with a large number of international athletes.
Last year, around 2700 runners completed the half marathon along the northern shore of the Wörthersee, and over 1400 took part in the 10.5km quarter marathon.
The half marathon winners were Robert Langat (1:02:47) and Lucy Wambui Murigi (1:14:05), both of Kenya.
The start of the 21km race is on the lakeside promenade in Velden, a fashionable resort at the western end of the Wörthersee.
The finish line is in the Europapark at the eastern end of the lake, approximately four kilometres from the city centre of Klagenfurt, capital of the state of Carinthia.
The course is gently undulating and traffic-free. As a large part of the shore is in private hands only a few sections of the route are along the lakefront.
Race report, results and photos: Wörthersee Half Marathon 2011
Country: Austria
Venue (Map): Velden - Klagenfurt
Date: 18 August 2013 (Sunday)
Distance: 10.55km; 21.1km
Start (10.5km): 8.00 on Monte-Carlo-Platz in Pörtschach
Start (21km): 8.50 (?) on Seepromenade in Velden
Finish: in the Europapark at the Wörthersee, Klagenfurt
Entries: online or by post (until 5 Aug 2013); late entries on 16 and 17 Aug 2013; no entries on the day
Entry fees (10.5km): € 22/25/30/35 (until 1 April/1 July/5 August/17 Aug 2013)
Entry fees (21km): € 30/34/39/45 (until 1 April/1 July/5 August/17 Aug 2013)
Timing: ChampionChip - use your own chip or rent a chip for € 3 (€ 7 deposit)
Race centre: Europapark Klagenfurt (16 Aug 2013, 14.00-20.00; 17 Aug 2013, 9.00-20.00)
You get: bus/train service between start and finish (before and after the race), transport of personal clothing from the start to the finish area, finisher medal, massage service after the race
Prizes (21km): to the first 6 M/F and to the first 3 in each category
Prizes (10.5km): to the first 3 M/F and to the winners of each category
Showers and changing facilities: Strandbad Klagenfurt (after the race)
Award ceremony: ca. 13.30
Number of finishers 2012: 2673 (21km), 1296 (10.5km)
Event website: www.kleinezeitung.at/sport/kaerntenlaeuft/index.do
No guarantee is made as to the accuracy or thoroughness of the information on this page.