Sunday 28 August 2022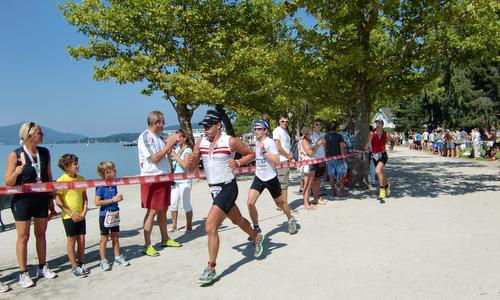 Kärnten läuft ("Carinthia runs") is a running event held yearly over a summer weekend in Kärnten, the southernmost province of Austria.
It's a major event in the Carinthian sports calendar and attracts several thousand participants from near and far.
Various races are available for runners, walkers and nordic walkers of all ages and abilities.
The most popular of these races is the Wörthersee Halbmarathon, a point-to-point half marathon run along the northern shore of the Wörthersee, the biggest and most-hyped of all the Carinthian lakes.
The 21.1-kilometre route begins in Velden, a fashionable resort situated at the western end of the Wörthersee. It ends in the Europapark at the lake's eastern end, approximately four kilometres from the city centre of Klagenfurt.
The course is gently undulating and closed to all traffic during the race.
Unfortunately, much of the shore of the Wörthersee is private property, and thus only a few portions of the route run right along the lakeshore.
The 10.55-kilometre Viertelmarathon (quarter marathon) starts in Pörtschach at the halfway mark of the half marathon.
Update 2020:
In 2020, due to Covid-19 restrictions, the route was a loop course starting and finishing at the Wörthersee Stadion in Klagenfurt.
The quarter marathon was held on Saturday, the half marathon on Sunday.
There was no mass start. Runners started individually, one after the other.
Update 2021:
In 2021, the race took the runners from Velden along the southern shore of the lake to the finish line in the Wörthersee Stadion. The half marathon was run from Krumpendorf, which is on the northern shore, to the stadium.
Map of the venue (blue: start; red: finish):
Number of finishers:
2021:

10.55km: 657 runners and 74 walkers
21.1km: 1,613 runners

2020:

10.55km: 529 runners and 40 walkers
21.1km: 1,200 runners

2019:

10.55km: 1,308 runners and 107 walkers
21.1km: 2,275 runners
Wörthersee Halbmarathon 2022:
Date:
Event website:
Archive:
Race information:
Race report, results and photos:
No guarantee is made as to the accuracy or thoroughness of the information on this page.