Soave (Italy), Sunday 6 May 2012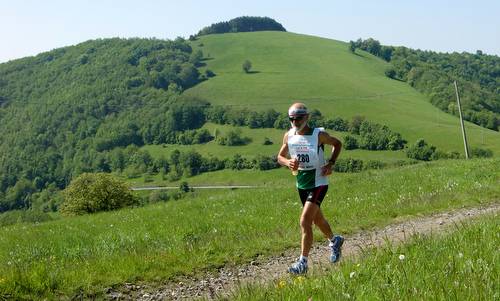 Participants in the Trail Soave-Bolca run 33 kilometres of an immensely scenic point-to-point course through the Province of Verona in northern Italy.
The route is very hilly. Overall, it includes almost 2000 metres of climbing.
The start is in the picturesque village of Soave, which sits at the foot of the Venetian Prealps, about 25 kilometres to the east of the city of Verona.
The finish line is at an elevation of 800 metres at the wonderful Museo dei Fossili in the village of Bolca, which is widely known for its beautifully-preserved, 50-million-year-old fish fossils. Runners can visit the museum after the race.
Most of the route is on trails and dirt roads. Some sections are on asphalt roads.
The event is great value and perfectly well organized.
In 2011, the winners were Cristiano Campestrin (2:43:59) and Anna Conti (3:26:36).
Race report, photos and results:
Country: Italy
Venue (Map): Soave (23km from Verona, 64km from Padova, 97km from Venice)
Date: 6 May 2012 (Sunday)
Race distance: 33km (+1950m)
Start: at 8.00 at the Porta Verona in Soave (elevation: 30m above sea level)
Finish: Bolca (elevation: 800m above sea level)
Time limit: 6 hours
Entries: by fax or e-mail; payment by bank transfer; entries close 1 May 2012; entry limit 400 runners; entrants may have to provide a medical certificate at registration
Entry fees: 18 euros (up to 1 May 2012)
Race centre: at the start (from 7.00)
You get: pre-race breakfast, transport of personal clothing to the finish, five feed stations along the course, hand-crafted wooden medal, certificate, a bottle of wine, pasta party after the race (at the finish), bus service back to the start
Prizes: product prizes to the first 20 men and 10 women and to the 3 largest groups
Award ceremony: 12.00
Number of finishers 2011: 279
Event website: www.montefortiana.org
No guarantee is made as to the accuracy or thoroughness of the information on this page.