Budapest (Hungary), Sunday 20 May 2012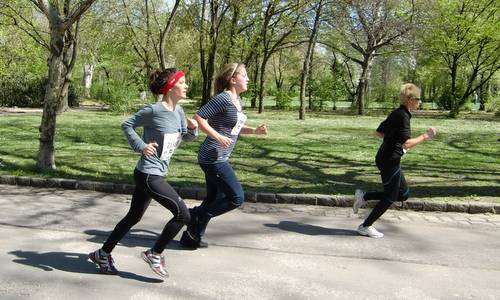 Around 3,000 women took part in last year's Női Futógála in Budapest.
In 2012, the event will be held again on Margitsziget ("Margaret Island"), a 2.5km-long island in the River Danube. Situated close to the city centre, Margitsziget is a popular recreation ground with parks and many sports facilities.
Entrants can choose between the 3.5km run (one loop), the 7.5km race (two loops), the 7.5km relay (two runners: 3.5km+4km), and the 2.8km walk. As there will be a break between the 3.5k and the 7.5k, it's also possible to run both distances.
Last year, Csilla Pap won the 7.5k race in a time of 27min 45sec.
Country: Hungary
Venue (Map): Budapest (Bratislava 200km, Vienna 245km, Zagreb 350km, Ljubljana 466km)
Date: 20 May 2012 (Sunday)
Race distance: 3.5km; 7.5km; 7.5km relay (2 runners: 3.5+4km); 2.8km walk
Start time: 11.15 (3.5km); 11.20 (2.8km walk); 12.30 (7.5km - individual runners and relay)
Start and finish: Margitsziget, near the water tower
Entries: online or in person in Budapest; late entries on the day
Entry fees (3.5km): 1400 HUF (or € 5)
Entry fees (7.5km): 2200 HUF (or € 8)
Entry fees (3.5km+7.5km): 2500 HUF (or € 9)
Entry fees (relay teams: 3.5km+4km): 3200 HUF (or € 12)
Timing: ChampionChip — no chip rental fees but 1000 HUF deposit (ca. € 3.50, fully refundable)
Race centre: on the day 8.30-11.00 at the open-air theatre (Szabadtéri Színpad) on Margitsziget
You get: T-shirt, warm-up aerobics, chip timing (for the 7.5km run, the 7.5km relay, and for the 3.5+7.5km run), finisher medal (7.5km individual runners)
Prizes: (?)
Changing facilities, baggage storage: yes
Number of participants 2011: 1040 (7.5km), 142 (7.5+3.5), 52 relay teams
Event website: www.futanet.hu
No guarantee is made as to the accuracy or thoroughness of the information on this page! Please visit the official event website to verify the above information.