14th Grintovec Mountain Race 2012
Kamniška Bistrica (Slovenia), Sunday 29 July 2012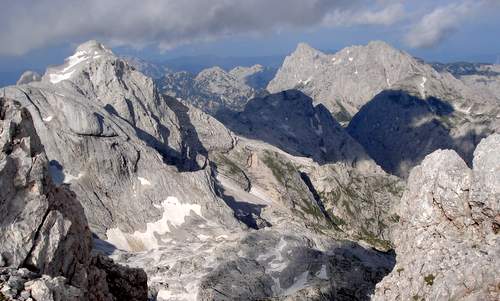 Views from the summit of Mount Grintovec
Many world-class mountain runners have taken part in the Gorski tek na Grintovec, a gruelling uphill running race in the Kamnik-Savinja Alps in Slovenia.
The course is relatively short (9.6km) but steep (almost 2000 metres of climbing). It is not allowed to use hiking poles.
The start is at an elevation of 600 metres in a steep valley near the town of Kamnik. The finish line is on the summit of Mount Grintovec (2558m).
The first half of the route is run on dirt roads and trails through dense forest. Then, participants run (or hike) on mountain trails and scree through unspoilt and spectacular high-alpine scenery.
The work is not done when runners have crossed the finish line. As there are no facilities on the summit, participants have to walk back to a mountain hut (pictured below) at 1800m above sea level to get their personal clothing. From there, they have to walk all the way back to the start as well.
In 2011, the course had to be shortened due to bad weather. The winners were Ahmet Arslan of Turkey and Slovenia's Lucija Krkoč.
The mountain hut on the Kokra Saddle (Kokrsko sedlo, 1793m)
Country: Slovenia
Venue (Map): Kamniška Bistrica (Kamnik 13km, Ljubljana 36km, Klagenfurt 95km, Trieste 129km)
Date: 29 July 2012 (Sunday)
Race distance: 9.6km (+1957m)
Start: 9.00 at the "Dom v Kamniški Bistrici" (601m)
Finish: on the summit of Mount Grintovec (2558m)
Entries: by phone, fax, e-mail or online (from 15 to 27 July 2012); late entries on the day until 8.00
Entry fees: € 15 (until 27 July 2012), € 20 (entries on the day)
You get: a souvenir gift, transport of personal clothing to the mountain hut on the Kokra Saddle (Kokrsko sedlo, 1793m)

Prizes: prize money to the first 15 men and 7 women; prize money for a new course record; medals to the first 3 in each category
Award ceremony: 15.00 (at the start)
Number of finishers 2011: 127 men, 24 women

Event website: www.kgtpapez.si
No guarantee is made as to the accuracy or thoroughness of the information on this page.