Muggia (Italy) - Koper (Slovenia), Sunday 18 September 2011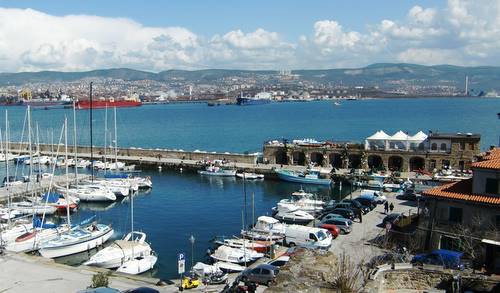 Muggia is very close to the port of Trieste.
This truly international half marathon starts in Italy and finishes in Slovenia.
The route is very interesting as it offers fine views of the ports of Trieste in Italy and Koper in Slovenia. The first half of the course is mostly flat, the second half is undulating.
Start is in the picturesque small town of Muggia, which sits on the northern shore of a peninsula in the Gulf of Trieste. The route runs along the coastal road around the peninsula to Koper.
Participants run through vineyards, through the resort of Ankaran, through an industrial part of Koper, and around Koper's old town. Finish is at the "Taverna", a 15th-century salt warehouse.
The event includes a 9k fun run from Ankaran to Koper.
In 2010, the race had to be shortened due to flooding of parts of the course. The winners were Moroccan-born Lahcen Mokraji and Jemila Wortesa Shure of Ethiopia.
Duomo di Muggia

Country: from Italy to Slovenia
Venue: Muggia-Koper
Date: 18 September 2011 (Sunday)
Distance: 21.1km; 9km (non-competitive running/cycling/inline skating)
Start (21km): 9.30 on Piazza Caliterna in Muggia (Slovene: Milje), Italy

Start (9km ): 9.30 in Ankaran (Italian: Ancarano), Slovenia

Finish: at the "Taverna" on Carpaccio Square in Koper (Italian: Capodistria), Slovenia
Route: course map

Entries: online until 15 Sep 2011; payment by credit card or bank transfer; late entries on 16 and 17 Sep 2011; entrants to the half marathon may have to provide a medical certificate at registration

Entry fees (21km): 15/20/25 euros (until 31 Aug/15 Sep/17 Sep 2011)
Entry fees (9km): 7 euros (until 17 Sep 2011); 2 euros (children 14 years and under)

Race centre: Ricreatorio Penso, Piazza della Repubblica 8, Muggia (16 and 17 Sep 2011, 16.00-20.00); at the start (on the day until 9.00)
You get: bus service (before and after the race), transport of personal clothing from the start to the finish, timing chip rental, massage at the finish, pasta party after the race, goody bag

Prizes (21km): first 10 men and 5 women, first 3 in each category (prizes are not cumulative)
Prizes (9km): first 15 men and 10 women
Award ceremony: 11.30 (first 10 men and 5 women), 12.30 (categories)
Number of finishers 2010: 399

Event Website (in Italian): Euromarathon

Contact: This email address is being protected from spambots. You need JavaScript enabled to view it. (in Italy); This email address is being protected from spambots. You need JavaScript enabled to view it. (in Slovenia)

Tourist information (in four languages): Muggia, Koper

No guarantee is made as to the accuracy or completeness of the information on this page! Please use an alternative source to verify the above information.