WMMRC 2011
Paluzza (Italy), Saturday 17 September 2011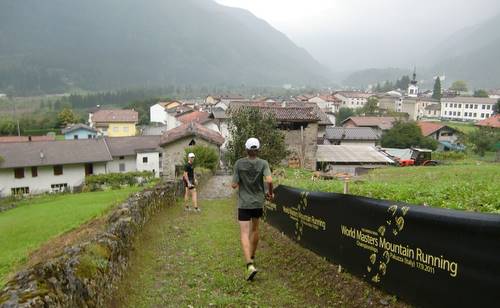 You don't need to be a top athlete to take part in these World Championships. The event welcomes runners of all abilities, from 35 to 79 years old.
The WMMRC 2011 will take place in the Carnia region in the north-east of Italy, close to the border with Austria. Start and finish of all races will be on the main square of the small town of Paluzza, which sits in a steep valley at the foot of the Carnic Alps.
Competitors will run two loops of a very hilly multi-terrain course around Paluzza. The youngsters (aged 35-54) will run 11km, whereas the more experienced athletes (aged 55-79) will run 8.7km.
Participants run on paved roads, grass, and forest trails. In the woods, the course is highly technical as it features many twists and turns on narrow trails, plenty of tree roots, and some old cobbled forest roads. The uphill and downhill sections are never very long, but some are very steep!
With eight races held one after the other, and a two-lap course running through the town centre, you can expect a vibrant atmosphere in Paluzza. Two weeks before the event, almost 1000 runners have registered already for the races.
Photos and Results: World Masters Mountain Running Championships 2011
The last metres to the finish line in Paluzza's town centre.
Country: Italy
Venue: Paluzza (Udine 70km, Klagenfurt 145km, Ljubljana 183km, Venezia 190km)
Date: 17 September 2011 (Saturday)
Distance (35-54 years): 10.98km (+620m, -620m)
Distance (55-79 years): 8.68km (+493m, -493m)
Start time: from 9.45 to 16.00, depending on the age category (see event website)
Start and finish: Piazza 21/22 Luglio (main square of Paluzza)
Entries: online or by e-mail or fax; payment by bank transfer; entries close 12 September 2011
Entry fees: 30/40/50 euros (until 31 May/31 July/12 September 2011)
Race centre: at the start (Friday 16 Sep 10.00-20.00, and on the day from 8.30)
You get: backpack, finisher medal, a "Softgym" ball, pasta party
Prizes: medals to the first 3 in each category
Showers and changing facilities: (?)
Award ceremony: 19.00
Closing ceremony: 20.30
Number of finishers 2010 (Korbielów, Poland): 366 men, 95 women
Event website (in English, German and Italian): WMMRC 2011 (out of date)
No guarantee is made as to the accuracy or completeness of the information on this page.