11. Soltn Maratonina in Montagna 2011
Jenesien/San Genesio (Italy), Sunday 25 September 2011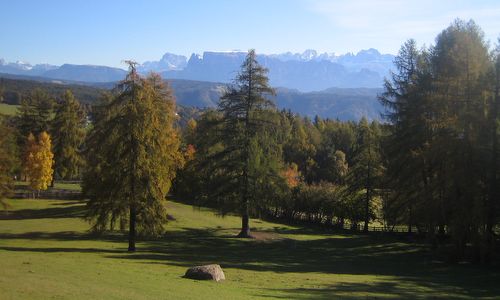 The very hilly "Soltn Mountain Half Marathon" takes place on the beautiful Salten Plateau which rises above the city of Bolzano in the far north of Italy.
The start and finish are at an elevation of 1226 metres in the village of Jenesien (Italian: San Genesio) where the vast majority of the inhabitants speak German as a first language.
Most of the course is on hiking trails through lovely mountain pastures and woods. Just the first two kilometres are on an asphalt road.
Overall, the route includes 520 metres of elevation gain and the same in elevation loss. The highest point on the course is at 1514 metres.
In 2010, the top finishers were Gerd Frick (1:16:27) and Francesca Iachemet (1:32:34).
Country: Italy
Venue (Map): Jenesien/San Genesio (10km from Bolzano, 126km from Innsbruck, 165km from Verona)
Date: 25 September 2011 (Sunday)
Race distance: 21.1km (+520m, -520m); 2-person relay (10.6km+10.5km)
Start and finish: football pitch above Jenesien (1226m)
Start time: 10.00

Entries: by fax or e-mail until 22 September 2011; payment by bank transfer; late entries on the day (8.00-9.00)

Entry fees (21km): 20 euros (until 22 Sep 2011), 25 euros (until 25 Sep 2011)
Entry fees (relay): 30 euros (until 22 Sep 2011), 35 euros (until 25 Sep 2011)
Race centre: at the start (on the day 8.00-9.30)
You get: a present, prize drawing after the race

Prizes: vouchers to the first 5 M/F; product prizes to the first 5 in each category; prize money for a new course record

Showers and changing facilities: yes
Award ceremony and prize raffle: 14.00

Number of finishers 2010: 156
Event website (in German and Italian): www.soltnflitzer.it/halbmarathon/