4th Fužine Half Marathon "Three Lakes" 2011
Fužine (Croatia), Sunday 12 June 2011
The Fužine Half Marathon in the Gorski Kotar mountains in Croatia is a small event with around 100 finishers but due to a generous prize fund it has attracted a fair number of elite runners.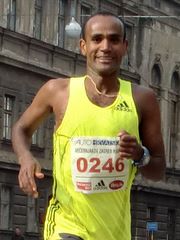 Last year's top finisher was Ashenafi Erkolo of Ethiopia (1:10:43), winner of the Budapest and Zagreb Marathons 2010 and of the Bratislava Marathon 2011. The first woman across the line was Barbara Belušić of Croatia (1:25:39).
The event takes place in the village of Fužine, which sits at an elevation of 730 metres in a densely forested region, about 35 kilometres from the Adriatic port city of Rijeka.
Located at the 7km-long "Bajer" reservoir, Fužine is a popular tourist destination, largely among Croats. It's easy to reach as it's on the motorway (and on the railway line) from Zagreb to Rijeka.
Starting and finishing in Fužine, the undulating route takes runners to two reservoirs and to a small lake.
Country: Croatia
Venue (Map): Fužine (Rijeka 35km, Trieste 111km, Zagreb 130km, Ljubljana 147km)
Date: 12 June 2011 (Sunday)
Distance: 21.1km
Start time: 10.00
Start and finish: at the restaurant "Bitoraj"
Entries: by e-mail or fax; payment by bank transfer
Entry fees: 70 HRK (ca. 9.50 EUR)
Race centre: in the tent at the petrol station in Fužine (on the day 8.00-9.00)
You get: T-shirt, medal, lunch after the race
Prizes: prize money to the first 4/6 (?) men and women
Showers and changing facilities: primary school Fužine (8.00-14.00)
Number of finishers 2010: 96
Event website (in Croatian): glamar.midia.hr/wp
No guarantee is made as to the accuracy or completeness of the information on this page.