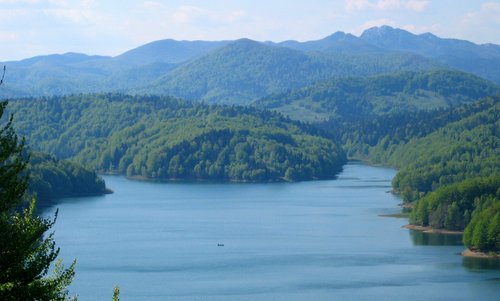 The Fužinarski polumaraton 'Tri jezera' (Fužine Half Marathon 'Three Lakes') is a road running event held annually in June in the Gorski kotar, a thinly-populated mountainous region in Croatia.
The race features an undulating and scenic route that visits three lakes—Bajer, Lepenice and Potkoš. The course is AIMS certified.
In addition to the half marathon, the event offers a 7km run and a kids' race.
All races begin and end in the village of Fužine which is situated at the southern tip of the Bajer reservoir, a popular tourist destination located approximately 35 kilometres inland from the Adriatic port of Rijeka.
Fužine is a small mountain village of some 700 people, situated at about 720 metres above sea level. It is relatively easy to reach by car or public transport as it is on the motorway and on the railway line from Zagreb to Rijeka.
Map of the venue:
Fužinarski polumaraton 2019:
Date:
Race distance:
650m children's run
7km
21.1km half marathon (polumaraton)
Event website (in Croatian and English):
www.akkvarner.hr/fuzinarski-polumaraton (out of date)
Number of finishers:
No guarantee is made as to the accuracy or thoroughness of the information on this page.