20th International Hagemann Race 2011
Petrijanec (Croatia), Sunday 10 July 2011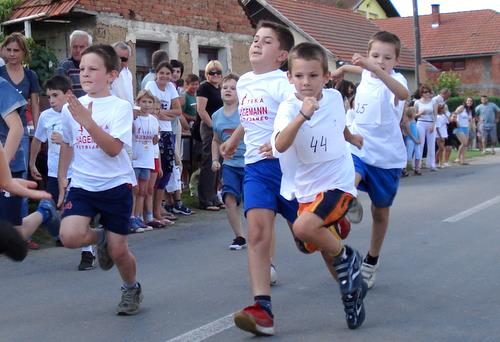 For two decades, Croatian-born marathon maniac Anna Hagemann from Hamburg has been organizing a small running festival in her home village in the far north of Croatia.
In 2011, the Trka Hagemann will celebrate its 20th edition, and for that special occasion each finisher will be awarded a trophy.
The event takes place in the hamlet of Družbinec on the edge of the village of the village of Petrijanec, situated very close to the border with Slovenia, and just about 11 kilometres from the beautiful Baroque town of Varaždin.
The villagers share Anna's enthusiasm and give her great support. Many households provide home-made cakes and other culinary delights for the after-race buffet.
Competitors choose between the 12km race (four laps) and the 3km fun run (one lap), both starting at 6pm, after the thrilling children's sprint races. The route is pancake-flat.
There is no prize fund but all participants will be entered into the post-race prize drawing.
Runners from many European countries have taken part in this lovely no-fuss event. Last year's 12K winners were Đuro Komljenović (42:57) and Valentina Belović (49:06).
Race report: Trka Hagemann 2009
Interview: Anna Hagemann
Country: Croatia
Venue (Map): Petrijanec (11km from Varaždin, 60km from Maribor, 98km from Zagreb, 135km from Graz, 164km from Ljubljana)
Date: 10 July 2011 (Sunday)
Race distance: 12km; 3km; children 50m/200m/400m
Start time: 17.00 (children), 18.00 (12km, 3km)
Start and finish: at the fire station in Družbinec
Entries: on the day
Entry fees: 60 HRK (ca. 8 EUR); children 25 HRK (ca. 3.35 EUR)
You get (12km, 3km): finisher trophy, a present, entry into the post-race prize drawing, cake buffet after the race
You get (children): finisher T-shirt and medal
Prizes (12km, 3km): first 3 M/F
Number of finishers 2010: 67 (12km), 10 (3km)
Event details (in Croatian): www.marathon95.hr