Družbinec (Croatia), 12 July 2009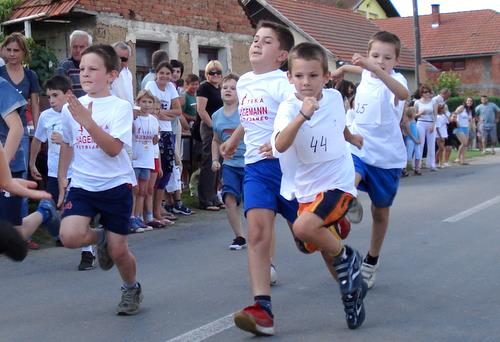 Some did it for ice-cream, others for cakes.
Usually, Anna Hagemann is always there for a nice little chat - but not on this particular day. Everything must go smoothly in her race, from the start of the first children's run at 4pm to the end of the cake and sausage party at around 8pm. She began with the preparations for the 18th edition of the Trka Hagemann (Hagemann Race) a year ago and on the day of the event she wants to be sure that there are no delays or any mistakes. And although there are lots of helping hands she runs about without a break to get some ice-cream or give a child a larger T-Shirt.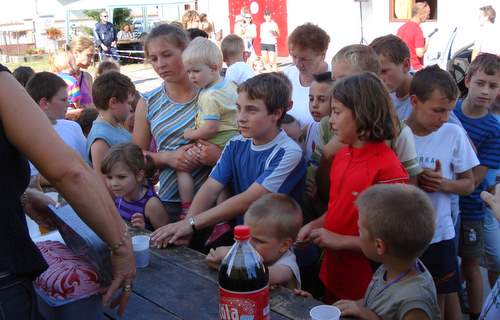 Anna is crazy about running. She has just come back from her 119th marathon in St. Petersburg where she finished in 4h14min - an amazing performance considering that she is 62 years old.
Born in Pula on the Istrian peninsula she soon came to foster parents as her single mother couldn't afford to feed all her children. She grew up in the small village of Družbinec in the far north of Croatia. Although she has lived half of her life in Hamburg she has never lost her affection for her home village. 
Družbinec is just 10km from the beautiful Baroque town of Varaždin, and if you like you can run all the way to town on a dirt trail along a canal. In the other direction it's just 4km to a large reservoir at the Slovene border.
Since 2006 Anna has been living in Hamburg again where she and her husband Hans both worked for many years in the harbour. Without the help of the locals in Družbinec she certainly couldn't organize the event any more. Almost all 100 households in the village provide some home-made cakes or biscuits or some other Croatian specialities. A small shop, the local bakery and some businesses support her as well but you won't see any banners or ballyhoo - this is a no-fuss event.
The race
At first numerous local children sprinted through the village. They ran distances of 50, 200 or 400 metres and were awarded with chocolate and strawberry ice-cream.
The adults could choose between running one or four laps of 2.94km around the village. As every year many villagers hung around in front of their houses to watch the race or supply some drinks.
The four-lap race has always been the main event, and again the best runners competed in the 11.76km. Although there was no prize fund some very good athletes travelled to Družbinec. Both winners came from neighbouring Slovenia.
Triathlete and ultramarathon runner Jožica Šiftar, an elite masters athlete from Gornja Radgona at the Austrian border, had no difficulties with the afternoon heat and left the 35-year-younger Dajana Diklić from Croatia more than four minutes behind.
Also Mario Vračić from Maribor won his race with ease. The former cyclist started running just one year ago and has already shown his great potential in many road and mountain races in Slovenia.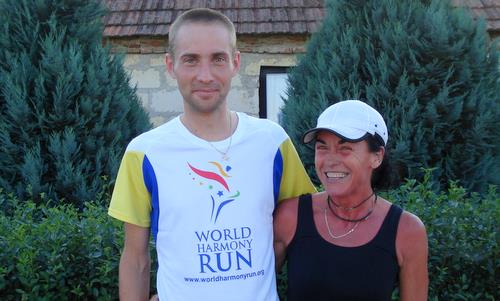 Mario Vračić and Jožica Šiftar
The longest journey to Družbinec had Tomáš Lendvorský from Prague. He works in Croatia occasionally and has taken part in some Croatian races before. The Czech holds a 10k personal best of 31:40 but now at the age of 43 he takes it a bit easier. Nevertheless, he had an excellent second place finish.
Results Trka Hagemann 2009:
men
| | | | | |
| --- | --- | --- | --- | --- |
|  1. |  Mario Vračić |  (35) |  SLO |  0:41:19 |
|  2. |  Tomáš Lendvorský |  (43) |  CZE |  0:42:10 |
|  3. |  Đuro Komlenović |  (43) |  CRO |  0:42:54 |
women
| | | | | |
| --- | --- | --- | --- | --- |
|  1. | Jožica Šiftar |  (56) |  SLO |  0:53:41 |
|  2. | Dajana Diklić |  (21) |  CRO |  0:57:57 |
|  3. | Jelka Vrbnjak |  (58) |  SLO |  1:00:14 |
Interview: Anna Hagemann
Back to: