Zagreb (Croatia), Sunday 10 October 2010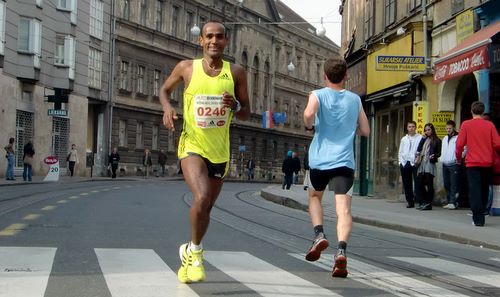 Ashenafi Erkolo (Ethiopia), winner of the Zagreb Marathon 2010
Ethiopian-born Ashenafi Erkolo broke the Russian dominance of the Zagreb Marathon by winning the 42.2km race on the streets of Croatia's capital city.
The 26-year-old, who moved to Hungary a few years ago and speaks Hungarian fluently, celebrated victory in a time of 2:23:51. He seemed to jog comfortably the entire race, but later he said it had not been that easy because he had not fully recovered from the Budapest Marathon, which he had won two weeks earlier in 2:23:13.
Russia's marathon runners took five of six podium places, with Veronika Lopatina (28) breaking the tape as the first woman in 2:41:24 — a strong performance considering the difficult conditions in Zagreb's city centre where parts of the course were not closed to traffic, and runners had to find their way around cars, tram tracks and pedestrians crossing the streets.
After finishing third in last year's event, this time Lopatina sticked to Nadezhda Semiletova (36), last year's runner-up. At the end, she decided the race in a long sprint along Ilica, Zagreb's main shopping street.
The 21.1km half marathon saw Central European runners at the front of the field.
Hungary's Tamás Kovács (27) claimed victory in a time of 1:05:39, beating his Slovenian and Croatian opponents by more than three minutes.
Croatia's new distance running star Lisa Stublić (26), who grew up in the U.S. and came to her father's home country three years ago, crossed the line in 1:16:29, ahead of Slovenia's reigning marathon champion Daneja Grandovec and Hungary's former Olympian Ida Kovács.
Overall, 235 runners completed the two-lap marathon. The half marathon had 486 finishers.
Veronika Lopatina (Russia) outsprints Nadezhda Semiletova.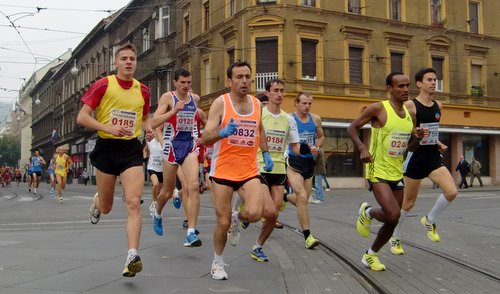 Drago Paripović (orange vest), 51-year-old Croatian marathon legend, leads the field.
Results 42km
Men (212 finishers)
| | | | |
| --- | --- | --- | --- |
| 1. | Ashenafi Erkolo | ETH | 2:23:51 |
| 2. | Denis Starikov | RUS | 2:25:16 |
| 3. | Yevgeny Fakhurtdinov | RUS | 2:26:44 |
Women (23 finishers)
| | | | |
| --- | --- | --- | --- |
| 1. | Veronika Lopatina | RUS | 2:41:24 |
| 2. | Nadezhda Semiletova | RUS | 2:41:30 |
| 3. | Olga Gorbunova | RUS | 2:58:32 |
Results 21km
Men (400 finishers)
| | | | |
| --- | --- | --- | --- |
| 1. | Tamás Kovács | HUN | 1:05:39 |
| 2. | Robert Kotnik | SLO | 1:09:03 |
| 3. | Zoran Žilić | CRO | 1:09:24 |
Women (86 finishers)

| | | | |
| --- | --- | --- | --- |
| 1. | Lisa Stublić | CRO | 1:16:29 |
| 2. | Daneja Grandovec | SLO | 1:18:20 |
| 3. | Ida Kovács | HUN | 1:19:17 |

Pavao Vlahek of Croatia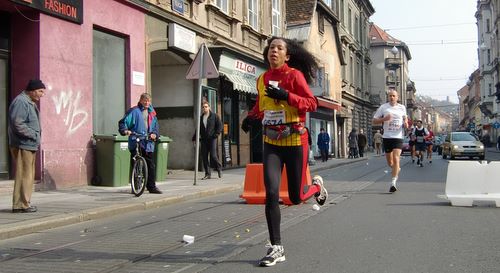 Pierre-ange Paradis of France
Back to: