Hungarians conquer Žumberak!
Sošice (Croatia), Sunday 5 September 2010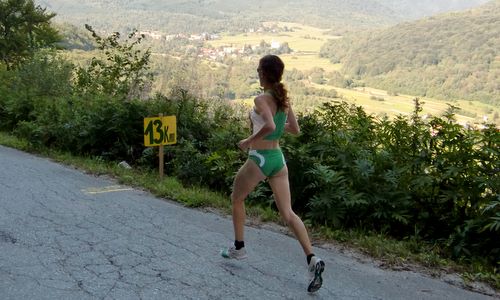 Mónika Nagy on her way to victory in Sošice
Over 120 athletes from five countries travelled to the remote village of Sošice in Croatia on Saturday to take part in the annual Žumberačka utrka.
The race follows a very hilly 15.5-kilometre point-to-point course through the Žumberak, a beautiful mountain range that runs along the border with Slovenia.
The start is in the tiny village of Radatovići, the finish in Sošice. In its heyday, Sošice had over 500 inhabitants, but most of them have left to find work elsewhere. Less than 100 people live now in the village, and the only shop has closed down.
The Žumberak Race is the main sports event in the region, and elite athletes as well as fun runners from many countries have participated in this unique event.
Like last year, the race had a very solid field that included several strong runners from Hungary. In the men's race, Barnabás Bene (24), an outstanding middle-distance runner, and Tamás Tóth (32), reigning Hungarian marathon champion, ran shoulder to shoulder for most of the race before Barnabás outsprinted his rival on the final 500 metres, which are very mildly uphill.
The women's race was close as well. Mónika Nagy (23) from Veszprém near Lake Balaton beat her training partner Anissa Badis (23) by just 20 seconds. Croatia's Marija Vrajić (34), winner of numerous marathons and ultra marathons, came third.
Tamás Tóth (left) and Barnabás Bene (right)
Results Men
| | | | |
| --- | --- | --- | --- |
| 1. | Barnabás Bene | HUN | 0:52:22 |
| 2. | Tamás Tóth | HUN | 0:52:28 |
| 3. | Balázs Ott | HUN | 0:56:03 |
Results Women

| | | | |
| --- | --- | --- | --- |
| 1. | Mónika Nagy | HUN | 1:01:25 |
| 2. | Anissa Badis | HUN | 1:01:45 |
| 3. | Marija Vrajić | CRO | 1:08:28 |
Full results: 15. Žumberačka utrka 2010
Anissa Badis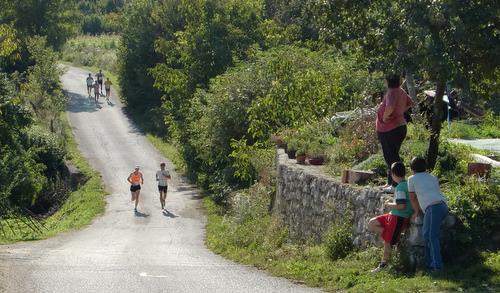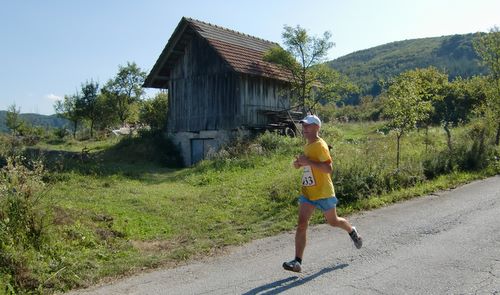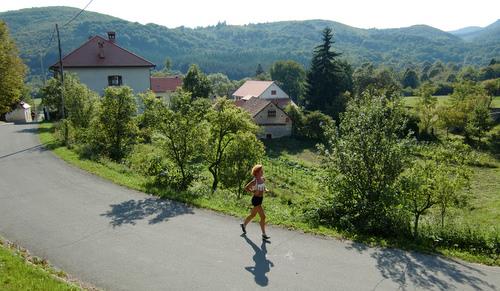 Back to: