Roux on top - and down again ...
Canazei (Italy), Sunday 18 July 2010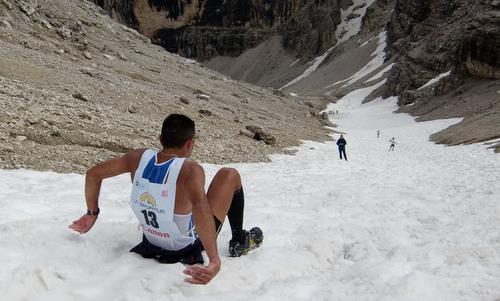 Dimitrios Theodorakakos of Greece developed his own downhill technique, which earned him a place in the top 10.
A period of exceptionally hot weather in Central Europe came to an end just a few hours before the start of the Dolomites Skyrace, when thunderstorms hit the Dolomites in northern Italy.
All night, flashes of lightning illuminated the sky over the massive limestone plateau of the Gruppo del Sella, the "Terrace of the Dolomites".
It was still raining in the morning, and there was even some light snowfall reported on Piz Boè, the highest peak of the Sella group, and with 3,152 metres also the highest point on the course.
Therefore, it was a wise decision to postpone the start by 45 minutes until 9.15am. The 22km up-and-down loop was shortened to 16.3km and participants didn't run up to Piz Boè, which was in dense clouds.
With approximately 1,400 metres of ascent (and 1,400 metres of descent) the route was still tough enough, and the climb to the Pordoi mountain hut, which is at an elevation of 2,829 metres, was very steep.
Many runners used trekking poles on the way up and handed them over to a helper waiting on the ridge, to collect them at the finish in Canazei, a ski and holiday resort located at 1,450 metres in the Val di Fassa.
Over 300 marshals and helpers volunteered on the course, about 100 of them mountain rescuers.
The men's race saw three Italians on the podium. Paolo Larger repeated his victory from nine years earlier, winning in a time of 1:35:34, followed by Michele Tavernaro and Fulvio Dapit.
French ski mountaineer and mountain runner Laetitia Roux led the women home, just two days after winning the "Vertical Kilometre" World Championship title in Canazei (a very steep 2.1km race with an elevation gain of 1km).
The 25-year-old celebrated a clear win in a time of 1:48:17, over six minutes ahead of Scotland's experienced Angela Mudge, and ten minutes ahead of Andorra's Stéphanie Jiménez.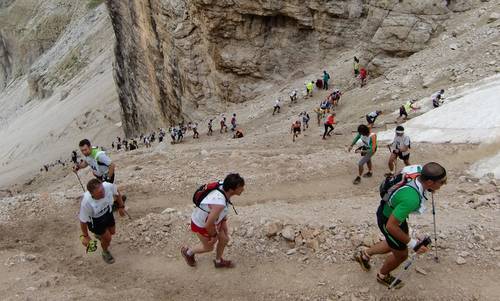 The field at the Forcella Pordoi (2829m), this year the highest point on the course.
Results Dolomites Skyrace 2010

:

Men:
| | | | |
| --- | --- | --- | --- |
| 1. | Paolo Larger | Italy | 1:35:34 |
| 2. | Michele Tavernaro | Italy | 1:36:14 |
| 3. | Fulvio Dapit | Italy | 1:38:36 |
Women:
| | | | |
| --- | --- | --- | --- |
| 1. | Laetitia Roux | France | 1:48:17 |
| 2. | Angela Mudge | Scotland | 1:54:34 |
| 3. | Stéphanie Jiménez | Andorra | 1:58:19 |
Number of finishers: 544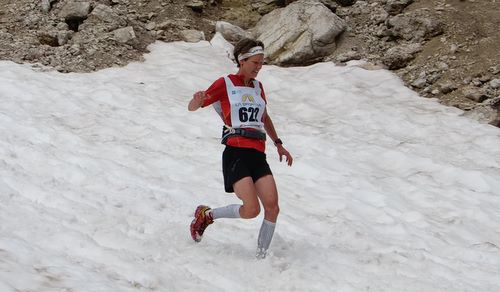 Laetitia Roux, Vertical Kilometre World Champion and first woman in the Dolomites Skyrace 2010.
The long descent on snow.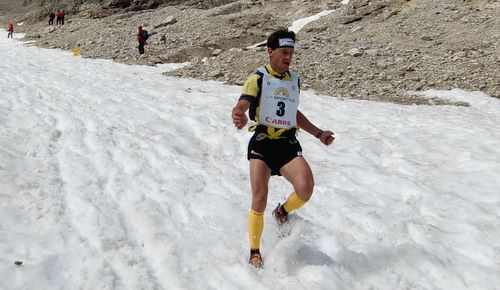 Paolo Larger, winner of the Dolomites Skyrace 2010.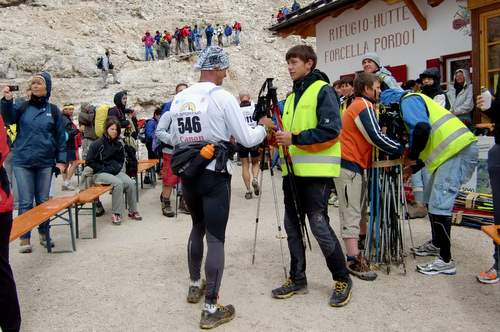 Many runners handed over their trekking poles at the Pordoi mountain hut.
Participants ran up and down the Sella group.
Back to: