Sappada (Italy), Sunday 11 July 2010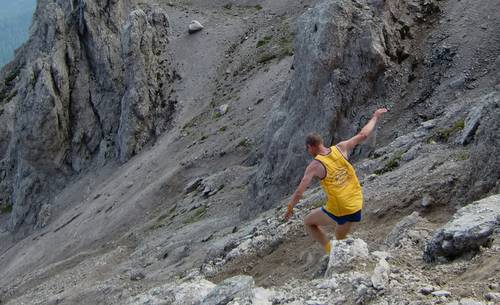 Running or hiking 22 kilometres along alpine trails is more than enough for most ordinary mortals, in particular if the route goes almost 1500 metres up and 1500 metres down.
Therefore, two-thirds of the entrants decided to take part in the Peralba Mini Sky Race through the Carnic Alps in the far north of Italy.
Only very experienced mountain running specialists dared to tackle the 32-kilometre Peralba Sky Marathon, which featured over 3000 metres of ascent and descent.
The marathon included a loop across Monte Peralba, a massive lump of limestone located just about one kilometre from the border with Austria. Participants scrambled up to the top of the mountain, which is at an elevation of 2694 metres!
The start and finish of both races was in the village of Sappada, a ski and holiday resort with many pretty wooden houses.
Sappada is situated at an elevation of over 1200 metres in a remote valley, far away from any sizeable town. It's a language island, where most inhabitants speak German as a first language.
The course offered a bit of everything - dramatic mountain scenery, stunning panoramic views, mountain pastures, moorland, woods, alpine lakes, waterfalls, and lots of lovely flowers.
Marmots whistled and cows rang their bells when runners passed. Those participants who took their time on the course could also see some chamois.
On a beautiful and very warm day (the skies opened up at the award ceremony in the afternoon), Matteo Piller Hofer defended his sky marathon title in a strong time of 4:02:02. First woman home was Francesca Domini in 5:27:03.
Results Peralba Skymarathon 2010:
Men
| | | | |
| --- | --- | --- | --- |
| 1. | Matteo Piller Hofer | ITA | 4:02:02 |
| 2. | Luciano Fontana | ITA | 4:10:54 |
| 3. | Tullio Grandelis | ITA | 4:30:09 |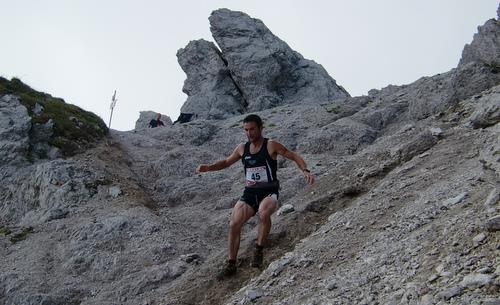 Matteo Piller Hofer, winner of the Peralba Sky Marathon 2010
Women
| | | | |
| --- | --- | --- | --- |
| 1. | Francesca Domini | ITA | 5:27:03 |
| 2. | Monica Penzo | ITA | 5:42:51 |
| 3. | Iris Bonanni | ITA | 6:21:51 |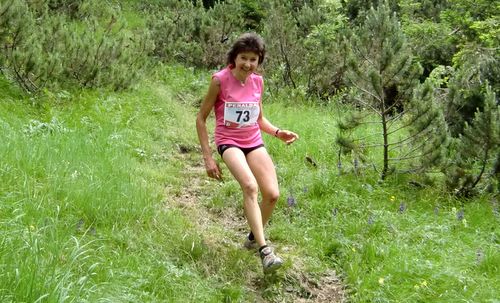 Francesca Domini, winner of the Peralba Skymarathon 2010
Results Peralba Mini Sky Race 2010:
Men
| | | | |
| --- | --- | --- | --- |
| 1. | Paolo Lazzaro | ITA | 2:40:57 |
| 2. | Andrea del Negro | ITA | 2:46:32 |
| 3. | Luca Pascolo | ITA | 2:48:37 |
Women
| | | | |
| --- | --- | --- | --- |
| 1. | Stefania Zanon | ITA | 3:22:10 |
| 2. | Tiziana Scorzato | ITA | 3:22:46 |
| 3. | Alessia Molin | ITA | 3:30:45 |
Number of finishers: 165 (22km: 82 men, 25 women; 32km: 51 men, 7 women)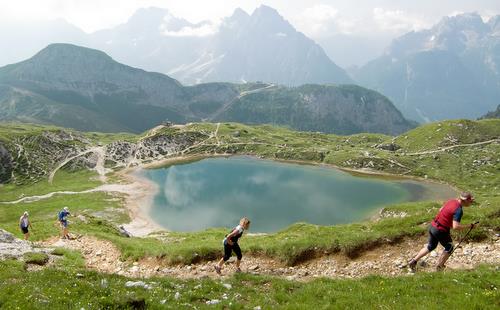 At the Laghi d'Olbe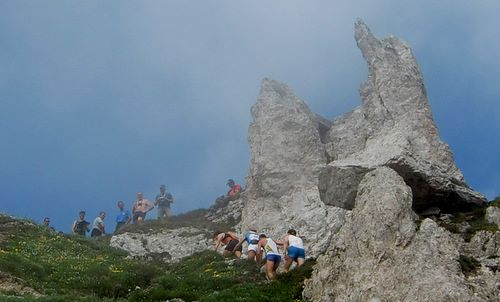 Across the Passo del Mulo
Back to: