Heatwave on snow
Šmarna Gora (SLO), 7 Feb 2009
It was over very quickly. A wave of steaming hot runners had stormed up to the top of the most popular Slovene mountain, braving mud and snow on steep hiking trails. A world-class mountain runner showed that he is in good shape for the coming season.
Šmarna Gora is an immensely popular destination for walkers from Ljubljana which is just about ten kilometers to the south. There's a criss-cross of footpaths through lovely woods, and on top you'll find a pretty church and a nice little restaurant. Weather permitting, the views of the Alps are beautiful.
It's not a too demanding walk to the top at 669m above sea level. The traditional 'Record of Šmarna Gora', however, knows how to make it tough. Running up 1.85km with an elevation gain of 350 meters - an average gradient of 19% - is a real challenge, in particular if there are mud and snow on the course. Nevertheless, 62 men, 16 women and 15 teenagers crossed the finish line.
After running some cross-races over the winter in his homeland Primorska in the south-west of Slovenia, world-class mountain runner Mitja Kosovelj (pictured below) took part in this sprint in preparation for the coming world-cup season. He couldn't beat the course record, which stands at an impressive 11:25 minutes, but won the race in style and left mountain running and biking specialist Simon Alič 40 seconds behind.
Mateja Šuštaršič was first woman in 16:22. Blaž Geč rushed to the top in 28:33. A remarkable performance for a 76-year old!
For some pictures of the race and further information please visit www.smarnagora.com.
| | | | | |
| --- | --- | --- | --- | --- |
| 1. Mitja Kosovelj | 12:07 | | Mateja Šuštaršič | 16:22 |
| 2. Simon Alič | 12:47 | | Andreja Godec | 17:54 |
| 3. Jože Čeh | 13:03 | | Urša Trobec | 18:00 |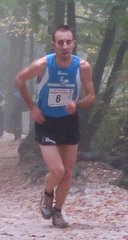 Back to: