Zalaegerszeg, Thursday 31 December 2009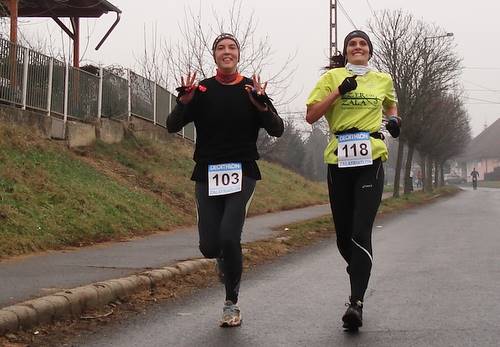 Veronika Görög (left) and Szilvia Lubics fought for the last marathon title of the year.
The town of Zalaegerszeg in western Hungary hosted Central Europe's last marathon of the year.
Zalaegerszeg, with a population of around 60,000, is an industrial town surrounded by wooded hills and vineyards. It's conveniently located close to Lake Balaton and not far from the borders with Austria, Slovenia and Croatia. The famous thermal lake of Hévíz is just 36 kilometres away.
Some might say the "MMM" is not a proper marathon as the course is just 41.5 kilometres long, but the five hills you run up and down more than compensate for the missing 700 metres. And although the majority of the route is on asphalt, it includes a lot of trails, some of them quite rough or muddy.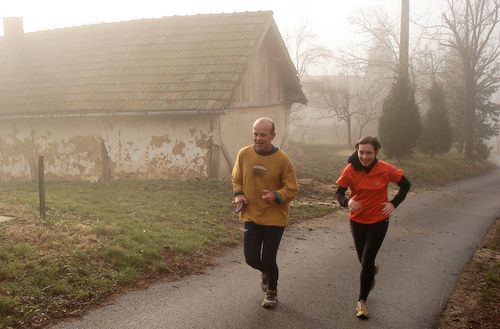 In addition to the marathon, the event offered a 12km and a 24km race. Overall, about 170 runners took part in these three races, and many more in the 3.5km fun run.
The route was very scenic. The start was at the technical college close to the town centre, the finish in the nice and warm college sports hall. Participants ran up a densely wooded hill to the television tower, through vineyards with lots of lovely little cottages, through industrial suburbs, residential areas, the town forest, and across a canal.
The number of feed stations was limited but they were well-stocked and there were many very friendly helpers.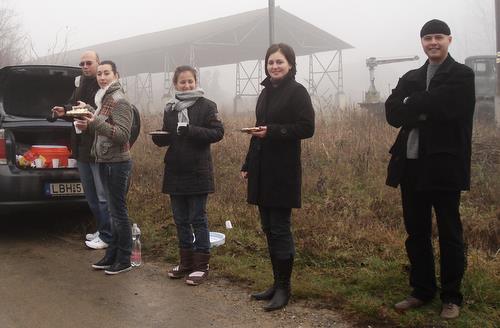 In the men's race, local runner Roland Lakatos (32) delivered a strong performance and celebrated victory in a new course record time of 2 hours 54 minutes. Tamás Tölli came second.
The women's race was a close affair, with ultra runners Veronika Görög (28) and Szilvia Lubics (35) staying in sight of each other for about 35 kilometres. Then, Görög opened a decisive gap to win in a time of 3 hours 31 minutes, 2 minutes ahead of Lubics.
At the finish, runners were awarded plenty of food, hot tea and mulled wine. In the afternoon, all competitors got free entry to the public swimming pool to celebrate New Year's Eve in the pool, the steam bath and the sauna.
The entry fees to the event were very friendly as well. Participants paid a nominal two euros.
Back to: