Trieste (Italy), 3 May 2009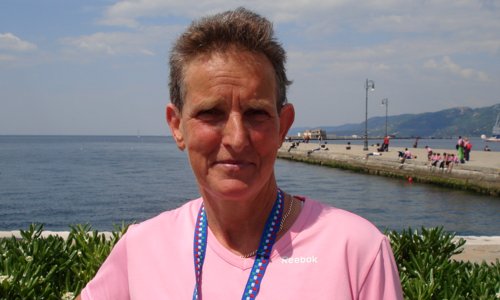 Marathon legend and race organizer Anna Hagemann from Croatia is always in good shape.
Anna Hagemann (62) was born in the coastal city of Pula but she grew up in a small village near Varaždin in the far north of Croatia. She spent almost half of her life in Hamburg where she now lives again with her husband Hans.
She won her age category in the half marathon in Trieste (Italy) on the 3rd of May 2009. We met her after the race.
R.I.:  Anna, did you have a good race?
Anna: Yes, as usual. 1 hour 54 minutes.
R.I.:  You've had an incredible marathon career. How many marathons have you done?
Anna: Last week in Hamburg, I finished my 118th marathon. 4 hours 17 minutes. But I also did the 61km Zagreb-Čazma supermarathon 13 times.
R.I.:  And how many half marathons?
Anna: I don't know, I'd have to look that up. But that's crazy. I think about 25 per year. And all those shorter races ... I have been running for almost 30 years.
R.I.:  You're always in good shape. How can you run so many races without getting tired?
Anna: Well, you can't do that when you go fast in the races. But I run my own pace, always without a watch.
R.I.: Did you do any sports before?

Anna: Oh, yes. I have been playing volleyball all my life. I did cross-country races in school, and I played handball.
R.I.: How do you train for the marathons?
Anna: We've got a large training group in Hamburg. Twice a week, we run one hour, and on Saturdays one, two or three hours. On the days in between I run on my own.
R.I.:  Which race do you like most?

Anna: Well, for me, of course, it's the Hamburg Marathon. So many people know me there and cheer me on. I have done that marathon 23 times. I missed only one edition of the race, and I'm still very disappointed about that. One year, I had missed the closing date for entries and they didn't let me start.
R.I.: You organize a race yourself. Can you tell us a bit about it?
Anna: Yes, this year will be the 18th edition. It's in July in Petrijanec, that's my village in Croatia. We do a lot of sports there — handball, football, volleyball, aerobics. But because of this race all runners in Croatia know Petrijanec. It's a four-lap course around the village, a bit less than 12 kilometres. There's a fun run of one lap as well, and many children's races.
R.I.: But what's so special about it?
Anna: Everyone in the village helps me. There are about 100 households, and almost all of them bring a home-made cake or something else to eat, and we have a great buffet. And so many locals watch the race.
R.I.: This year, some running events have been cancelled because sponsors have withdrawn their support. Do you have any difficulties finding sponsors?

Anna: No, not at all. Everyone there is so helpful. We get bread rolls from the bakery, pizza from the pizzeria, ice-cream from the ice-cream parlour, and some small businesses support us as well. We give a towel to each sponsor, and the women get an apron. Things have become even easier since I have moved back to Hamburg three years ago.
R.I.: Are there any foreigners coming to your race?

Anna: In the last years, unfortunately, there were just a few. Before, we had quite a lot of runners from other countries, particularly from Austria and Slovenia, but now they have many running events at home as well. I hope they will come again.
Details on Anna's race:
Back to: