Lost and found
Savudrija - Novigrad, 20 December 2009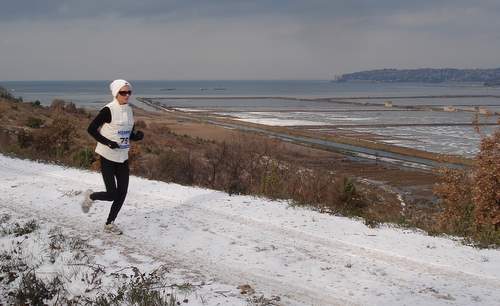 Chaos reigned on the Istrian peninsula in the northern Adriatic.
The 53.8km "Ultra promo Marathon" aims at promoting distance running in a region where few people ever go for a run. Only four Croats took part in the event, one of them a local, and he dropped out after 24 kilometres, together with some other participants. Overall, the race had around 100 entrants. The vast majority of them came from neighbouring Slovenia in the hope of a nice run in mild Mediterranean climate.
One day before the event, however, a European pre-Christmas cold snap had brought snow and ice to the Croatian coast, which rarely sees any snow at all.
At freezing temperatures, participants waited about 40 minutes longer than expected for the start in Savudrija, a fishing village and resort at Istria's north-western tip.
Later, several participants got lost on the poorly marked course and ran a few kilometres more (or less because they either found a short cut or they dropped out of the race altogether).
The feed stations didn't give much moral support either. Only ice-cold water, apples and sugar cubes were on offer - no energy bars, gels and drinks as announced before.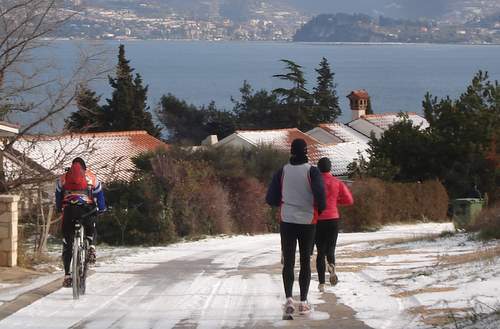 At last, after making phone calls or asking villagers or hitching a ride, all runners somehow found themselves in the finish area in the coastal resort of Novigrad.
Most of them took the coastal footpath, others came through Novigrad's narrow streets. One runner did a lap around the finish shouting "Where's the finish?" and another one had to be stopped after passing the finish line, which was not really a line but a bunch of people standing around in front of a closed restaurant near the shore.
Participants then changed clothes on the beach as there were neither changing facilities nor toilets.
Nevertheless, at the end most runners were happy with their own performances, and finally enjoyed mulled wine, sweet hot tea and pasta in the (very) fresh air.
Despite various difficulties the event certainly has the potential to develop in the future. The hilly route through inland Istria is attractive. The race follows sections of the disused "Parenzana" railway line, which offers good views of the saltpans in the Piran Bay. You run on roads and trails through olive groves, vineyards and woods to the medieval hilltop towns of Buje and Grožnjan, and then along the Mirna River Valley back to the coast.
Back to: