Schmaltz sandwiches and folk music
Jelendol (Slovenia), 23 August 2009
Runners of all ages raced along a disused railway track in the Alps.
The 8km Race along the Dovžan Gorge does not really travel along a gorge. It's more or less a steep valley.
However, the only way to get to the event is through the Dovžan Gorge, a protected natural monument located very close to the old shoemaking town of Tržič, near the Austrian border. Few tourists venture to this area at the foot of the impressive Karavanke mountain chain.
From Tržič, it's three kilometres on the road to the narrowest section of the gorge where a spectacular road tunnel was cut into the rock at the end of the 19th century. A scenic footpath shows you around the huge boulders in the Kamniška Bistrica river.
Another three kilometres and you come to Jelendol. Formerly a centre of the timber industry, it's nowadays a sleepy village with a small football pitch, a boules field and a handful of buildings, squeezed into the limited space between thickly forested mountain slopes.
Jelendol
It was a lovely cool morning on race day, after heavy rain had cleared the skies. Four musicians playing alpine folk music welcomed the competitors at the registration. For an entry fee of €8 participants got a T-Shirt and, after the race, schmaltz sandwiches, apples and freshly-made pancakes. Most T-shirts were large enough for those who indulge regularly in hearty alpine food.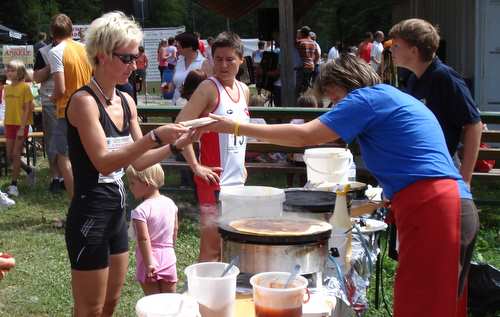 Reward: pancakes
All races were held on an out-and-back course on a dirt road that follows a disused railway track through the forest. The railway had been built in 1903 for the transport of timber. The route travelled very mildly uphill on the first half of the race, and then downhill to the finish.
At 10am, 67 young athletes competed with great ambition over distances of 550m, 1,000m and 1,500m. The youngest runner was three years old.

Half an hour later, the gun went off for the 166 participants in the 8km main race. Both winners of last year's edition defended their titles in style. Tone Kosmač, one of the best road runners in Slovenia, celebrated victory in 26:31. Neža Mravlje, winner of this year's Radenci Marathon, led the women home in 32:06.
Results Tek po Dovžanovi soteski 2009:
Men
| | | |
| --- | --- | --- |
| 1. | Tone Kosmač (33) | 26:31 |
| 2. | Marko Pintar (37) | 27:19 |
| 3. | Matija Oblak (18) | 27:31 |
Women
| | | |
| --- | --- | --- |
| 1. | Neža Mravlje (30) | 32:06 |
| 2. | Petra Race (34) | 33:17 |
| 3. | Manca Šolar (19) | 34:30 |
Race details:
Map
Back to: