Faaker See (Austria), 28 June 2009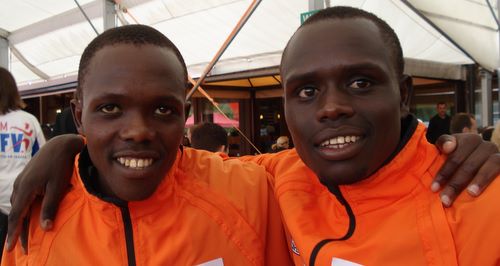 Micah Kiplagat Samoei (left) and Elvis Kipruto Maiyo (right)
Two very good friends finished first and second in the Faakerseelauf 2009.
On a very rainy day, Elvis Kipruto Maiyo (20) of Kenya won the Faakersee Half Marathon in a time of 1:07:04. His compatriot Micah Kiplagat Samoei (29) came second in 1:08:25. The race followed an undulating two-lap course around Lake Faak in southern Austria, partly on muddy forest trails.
R.I.: Well done! You did great times on this difficult course. Do you like races like this one?
Elvis: Yes! I like it when the course goes a bit up and down.
R.I.: And the weather?
Micah: Oh, no! We like it cold but we don't like the rain.
R.I.: What's your personal best on the half marathon?
Micah: 65min 51sec. I did that last year in the "Kärnten Läuft" race in Klagenfurt. I finished 10th. We were 15 Kenyans there.
Elvis: My PB is 66min 2sec, in the Nairobi Marathon. I started running last year.
R.I.: You have been running just one year?
Elvis: Yes, I was in school until last year. But I did cross-country and track races in school.
R.I.: What distances do you like most?
Elvis: We run all distances up to the half marathon.
Micah: I want to step up to the marathon, maybe next year.
R.I.: Do you run mountain races as well?

Elvis: I love mountain races. Last week I won the Klander-Berglauf in Kärnten.
Micah: I'm not good in the mountains. I'm too tall - 1.83 metre. Elvis is 1.65 metre.
R.I.: Can you tell us a bit about your training?

Elvis: We train in a group of seven Kenyans. For three months, until September 1st, we live in the Austrian Alps, at an elevation of 1400 metres. We run three times a day, every day at 6am and at 10am, and then again in the evening. We do most of the training on trails, and we run around a small lake. There's no track where we live.
R.I.: And how often do you do speed training?
Micah: About twice a week. We run, for example, one minute very fast, and then one minute easy, overall for 40 minutes. Or we do 1km intervals, aiming at a pace of 2min 56sec. And we do tempo runs of not less than 45 minutes.
R.I.: What's the main difference between races in Kenya and in Austria?
Micah: In Kenya, there's a lot of strong competition, and the runners start very fast.
R.I.: Where do you live in Kenya?
Elvis: In Eldoret.
R.I.: That's at an elevation of more than 2000 metres, right? Are you Kalenjin?

Micah: Yes, Kalenjin! How do you know?
R.I.: Well, many great runners come from the Kalenjin tribe.
Micah and Elvis: Oh yes! Paul Tergat, Benjamin Maiyo, Isaak Songok, Augustin Choge, Alex Kipchirchir, Asbel Kiprop, Tegla Loroupe, Joyce Chepchumba, ..., ..., ..., ..., ..., ...
R.I.: Do you find life difficult here in Europe, so far away from your families?
Micah: We miss our families. But they know we have to go. A man has to go.
Elvis: And we enjoy our stay here in Europe.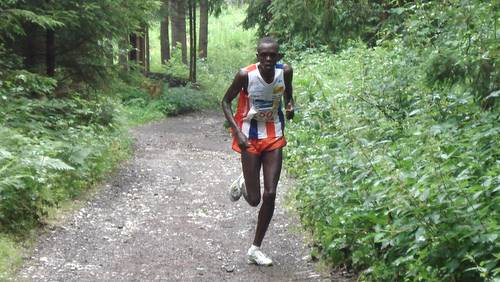 Back to: