New leadership in Italy!
Tarvisio (Italy), Sunday 7 June 2009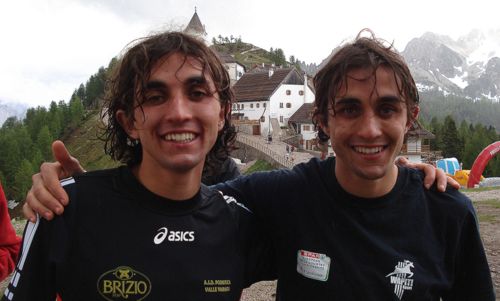 Twin peak - Bernard and Martin Dematteis, Italy's number one and two
World and European champions could not stop a younger generation ascend the throne.
Five times world champion Marco De Gasperi (32) and double European champion Marco Gaiardo (39) had to watch a young triumvirate taking over the leadership on the Italian mountains.
It was no great surprise to see Bernard Dematteis (23) winning the 11km uphill race with an elevation gain of 1200 metres to the top of Mount Lussari. In 2008, he had not only won the Italian title but had also finished runner-up in the European Championships and fourth in the Worlds.
His twin brother Martin, however, had not expected himself to cross the finish line just 23 seconds after his brother and was very happy to secure second place, 16 seconds ahead of Ricardo Sterni.
The 20-year-old from Trieste was very surprised about his performance as well, although he had shown his potential already in the World Junior Championships 2008, where he came second.
Ricardo Sterni, bronze medallist in the Italian Mountain Running Championships 2009
Nevertheless, Marco De Gasperi has not resigned yet. He explained his fourth place with not being in the best shape and hopes to show his strength again at the up-and-down World Championships in September. He won all his five world titles on up-and-down courses.
But fifth-placed Marco Gaiardo, European champion 2003 and 2006, may find it difficult as a 39-year-old to challenge the up-and-coming young runners in the future. He said he was always fighting hard but this time he found the first 30 minutes of the race very tough, and at the end he was not unhappy with his result.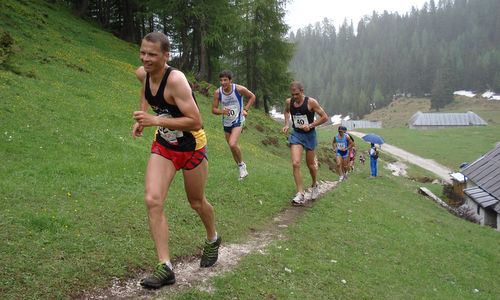 Klemen Triler of Slovenia came third in the International Berglauf Tarvisio.
The race was held in Tarvisio, a ski and holiday resort in the far north-eastern corner of the country. The route was very demanding, with many changes of steep and flat sections, on dirt roads and trails and on Tarvisio's World Cup ski slopes.
The finish line was at the sanctuary that stands at an elevation of 1770 metres on top of Monte Lussari, an important destination for Slovenian, Austrian and Italian pilgrims.
The Italian Championships were integrated into the 2nd Berglauf Tarvisio which was open to runners from all countries. Due to the proximity to the borders with Slovenia and Austria the race had many participants from these countries. Slovenian runners showed the best performances, with Lucija Krkoč (21) and Simon Alič (38) finishing on first place. Italian athlete Michele Ermacora, former world record holder over the 1500m backward running, came second.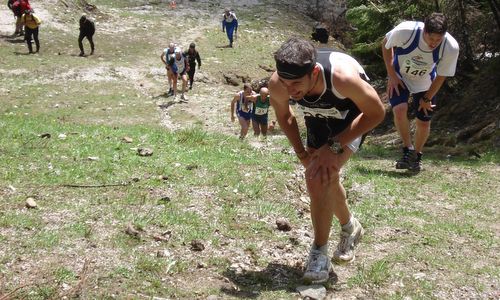 Overall, 143 men, 38 women and 44 juniors took part in the Italian Mountain Running Championships. The Berglauf Tarvisio had 101 finishers.
Results Italian Mountain Running Championships 2009:
Men (11km, +1200m)
| | | |
| --- | --- | --- |
|  1. |  Bernard Dematteis |  51:20 |
|  2. |  Martin Dematteis |  51:43 |
|  3. |  Ricardo Sterni |  51:59 |
|  4. |  Marco De Gasperi |  52:30 |
|  5. |  Marco Gaiardo |  53:01 |
Women (6km, +600m)
| | | |
| --- | --- | --- |
|  1. |  Valentina Belotti |  44:42 |
|  2. |  Renate Rungger |  46:10 |
|  3. |  Cristina Scolari |  48:52 |
|  4. |  Maria Grazia Roberti |  49:24 |
|  5. |  Mateja Kosovelj |  49:54 |
Results Berglauf Tarvisio 2009:
Men and women (11km, +1200m)
| | | | | | | |
| --- | --- | --- | --- | --- | --- | --- |
|  1. |  Simon Alič | SLO |  0:57:58 |  Lucija Krkoč | SLO |  1:08:10 |
|  2. |  Michele Ermacora | ITA |  1:00:56 |  Sabine Harder | AUT |  1:12:35 |
|  3. |  Klemen Triler | SLO |  1:01:03 |  Helga Tomaschitz | AUT |  1:15:30 |
Back to: