Above the caves
Hotedršica (SLO), 23 May 2009
It was hot in the Friendship Run through a remote corner of the Karst.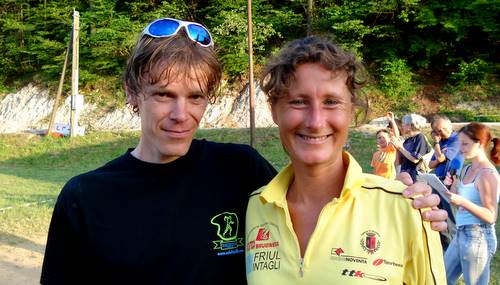 Simon Alič (SLO) and Valentina Bonanni (ITA), winners of the Tek prijateljstva 2009
The limestone plateau region of the Slovene Karst is a paradise for runners and mountain bikers. It's a spectacular landscape with countless caves and underground rivers, and there are even some lakes that disappear periodically in the underground caverns. The terrain is punctuated with many sinkholes and difficult to cultivate. Accordingly, the area is very thinly populated.
The traditional Friendship Run - this year saw its 38th edition - is an event in one of the forgotten corners of the Karst. The start was in the pretty village of Hotedršica, 25km from the famous Postojna caves. The women ran a lap of 7 kilometres, the men 13 kilometres on a different course.
Both races followed beautiful hilly routes on dirt roads through forests and meadows. Drinks were provided at the odd farmhouse on the way. The first half of the race was mainly uphill, the second half downhill, but there were many ups and downs in between. It was a scorching hot day, but fortunately there was a mild breeze and some shade in the woods.
Simon Alič (38), one of the best Slovene mountain runners, showed that he is in the form of his life. For the first three kilometres of the race he was still in a leading group of six runners, but then came the first climb, Alič sprinted away from the pack, extended his lead to more than a minute, and won the race with ease. In the morning he had set already a new course record in a short but very tough 2.2km mountain race with an altitude gain of almost 500 metres!
Valentina Bonanni (38) from the Italian Atletica Brugnera running club said, like many other tall runners, that she finds it difficult to run fast uphill. In the first part of the race she could not follow Aleksandra Fortin (37) from Slovenia. However, her long legs paid off on the second half of the course. On the way down, the Italian passed the Slovene with long strides and won after a strong finish with a comfortable margin.
At the finish, there were plenty of fruit, a great selection of drinks, and a DJ ensuring a good atmosphere. In addition, all runners got a small useful present and a warm meal, and everone picked up a prize in the raffle. The entry fee was eight euros.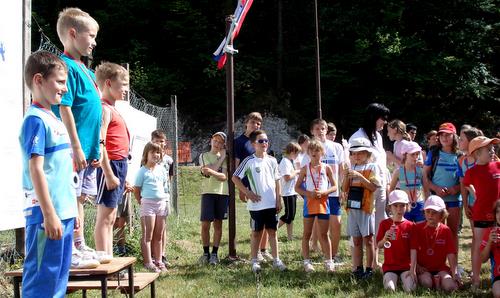 Overall, 145 children and 142 adults competed for trophies and medals.
Back to: