30 March 2009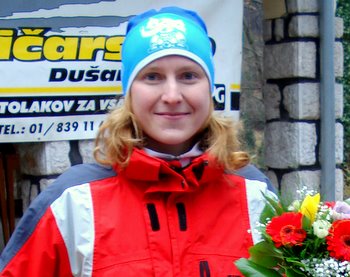 Daneja Grandovec won the Graz Mur Half Marathon 2009 just one day after triumphing in the mountain race to Sveti Primož in Slovenia.
The 25-year-old from Maribor is one of the best Slovene middle and long distance runners. She has personal best times of 10:03 in the 3000m steeplechase, 1:16:19 in the half marathon, and 2:48:36 in the marathon. Her coach is the former 2:15 marathoner Igor Šalamun. Daneja studied in the US for one year and speaks very good English.
R.I.: Well done, Daneja! Was it difficult to run the Graz Half Marathon just 24 hours after the mountain race?
Daneja: I think it would be much more demanding to run the other way round - the 21k first and then the mountain race afterwards.
R.I.: What do you like more - road or mountain races?
Daneja: I prefer flat road races. Even a mild incline in a road race can sometimes feel like a demanding hill. I don't like running uphill but I do some mountain races from time to time. I like running fast, so I prefer road and track races.
R.I.: Where did you train over the winter?
Daneja: A few years ago, we went to Egypt for a week of base training, and last year to Turkey. If we find some cheap and interesting destination for some winter training, then we go there. This year, we did most of the training at home in Maribor. But in February, we spent a week with the Slovene national team in Medulin, near Pula in Croatia.
R.I.: Can you describe an average training week?
Daneja: On average, I run about 20km per day. 6 to 8km easy in the morning, and a bit more in the afternoon. We do two sessions of speed training per week with fartleks and intervals. And a long run or a race on Sundays. And once a week I'm going to the gym to do some muscle strengthening exercises.
R.I.: What are your racing goals for this year? Where will we see you next?
Daneja: I was hoping to qualify for the Marathon World Championships in Berlin in August. But at the moment, I'm getting some pain in my feet when I run long distances, and I'm probably not going to run a marathon in spring. I'm planning to run the Slovene 10km Championships in Novo Mesto in April, and then prepare well for the Spar European Cup, where I'll be running the steeplechase. I'm also planning to run a half marathon but I haven't decided yet which one. There are plenty of half marathons and I need to choose one that is flat and fast, and where the competition is good.
R.I.: Is there a particular race in Slovenia that you can recommend to our readers?
Daneja: As a Slovene I can recommend all races. We have all you want or need - from short distances to marathons. Just come and give it a try!
Back to: