Corsa in Montagna - Mountain Race
Ortisei/St. Ulrich (Italy), Sunday 5 September 2010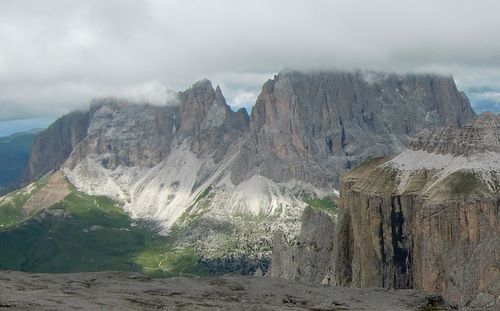 The Langkofel Group. The finish is on the saddle in the middle of the picture (at 2685m above sea level).
This uphill mountain running race, staged in the western Dolomites in northern Italy, truly deserves its name, although most of the 19.1-kilometre route is not extremely challenging.
The start is at an elevation of 1210 metres in the village of Ortisei (German: St. Ulrich) in the Val Gardena (Grödnertal). The valley is well-known for its ski resorts and hiking routes as well as for its wood-carving industry. Most of its inhabitants are speakers of Ladin, a Rhaeto-Romance language spoken in some parts of the Dolomites.
The first 16.7 kilometres of the race feature an elevation gain of less than 1000 metres - an average gradient of approximately 6 per cent.
The final 2.4 kilometres, however, climb over 500 metres - a gradient of 21 per cent.
Towards the end of the race, many runners will feel the lack of oxygen in the air because the finish is at high altitude at 2685 metres above sea level!
The finish line is at the Toni Demetz mountain hut, which is spectacularly situated on a saddle below the 3181-metre Sasso Lungo (Langkofel).
A large prize fund will be distributed among the top finishers, and surely the competition will be very strong. The world's best mountain runners will miss the race, however, as the World Mountain Running Championships will be held on the same day in Slovenia.
In 2009, the winners were Anna Lupton of England (2:07:20) and Thomas Niederegger from Italy's autonomous province of South Tyrol (1:41:33).
Country: Italy
Venue (Map): St. Ulrich/Ortisei (Bolzano 35km, Innsbruck 109km, Verona 186km)
Date: 5 September 2010 (Sunday)
Race distance: 19.1km (+1475m); nordic walking 2.4km (+509m)
Start (19.1km mountain race): 10.00 on Piazza Rezia in Ortisei (St. Ulrich)
Start (2.4km nordic walking): 10.00 on the Passo Sella (Sellajoch)
Finish: Rifugio Toni Demetz (Toni Demetz Hütte)
Entries: by post, fax, or e-mail; payment by bank transfer; in person at the Tourist Information Centre S. Cristina (until 4 Sep, 12.00); late entries on the day; you may have to provide a medical certificate at registration
Entry fees (19.1km): 30 EUR (until 4 Sept 2010, 12.00h), 35 EUR (late entries)
Entry fees (nordic walking): 20 EUR (until 4 Sept 2010, 12.00h), 25 EUR (late entries)
Race centre: Piazza Rezia in Ortisei (Saturday 4 Sept 2010, 17.00-19.00; on the day from 8.00)
You get: transport of personal clothing to the finish; cable car and bus service from the finish back to the start
Prizes: prize money
Presentation: 14.00 at the Rifugio Passo Sella (Sellajochhaus)
Number of finishers 2009: 115 (19.1km)
Event website (in German and Italian): gnred.valgardena.it
No guarantee is made as to the accuracy or completeness of the information on this page.