Lido di Jesolo (Italy), Saturday 4 September 2010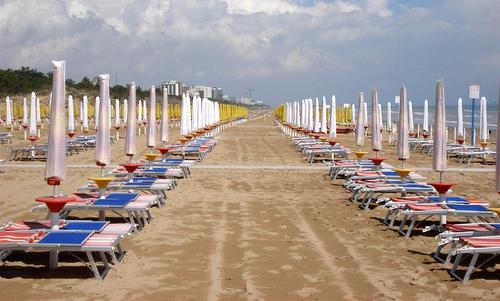 A fine place for a REST after the RUN.
"The RUN" is a series of ten road running events held between April and October in Italy.
Each event offer race distances of approximately 5 kilometres and 10 kilometres.
Previously, the series was named Gazzetta Run, after the sports tabloid Gazzetta dello Sport, which is printed on pink paper. The winners of each stage of the series are awarded a maglia rosa, a pink jersey that is usually reserved for the leading rider of the Giro d'Italia bicycle race.
The sixth stage of the series takes place in Jesolo, a seaside town in the Venetian Lagoon, approximately 25 kilometres east of Venice (by bus and boat).
The race is not held in the old town of Jesolo, which is four kilometres inland from the coast, but in Lido di Jesolo, a modern beach resort with an annual influx of over 4.5 million visitors.
The single-lap route is very flat and fast.
Participants in the 10k race will have to provide a medical certificate at registration if they want to appear in the results list (and be eligible for prizes).
Runners can take part in the race without a doctor's signature, but their finishing times will not be measured (Gara non competitiva). Athletes don't need a health certificate for the non-competitive 5k race either.
The entry fees for the non-competitive runs are a bit lower than for the competitive 10k. All participants get a technical running vest.
In 2009, the winners were Giuseppe Mucerino (30:05) and Sara Berti (35:47).
Country: Italy
Venue (Map): Lido di Jesolo (25km from Venezia, 94km from Udine, 147km from Trieste, 159km from Verona)
Date: 4 September 2010 (Saturday)
Race distance: 10km (competitive and non-competitive); 5.5km (non-competitive)
Start time: 20.30
Start and finish: Piazza Mazzini
Entries: online, by fax or by e-mail until Friday 3 September 2010 (14.00h); payment by credit card, by bank transfer, or in cash on the day; late entries for the non-competitive races on the day
Entry fees (10km competitive): €12
Entry fees (10km non-competitive): €10
Entry fees (5km non-competitive): €8
Race centre: Piazza Mazzini (16.30-23.30)
You get: Reebok running vest to all participants
Prizes (10km): prize money and sponsor prizes to the first 5 M/F; sponsor prizes to category winners
Presentation: soon after the race
Number of finishers 2009: 308 (10km competitive)
Event website (in Italian): www.gazzetta.it/therun/info-jesolo.shtml
No guarantee is made as to the accuracy or thoroughness of the information on this page.