8. Südburgenland Öko Energie Marathon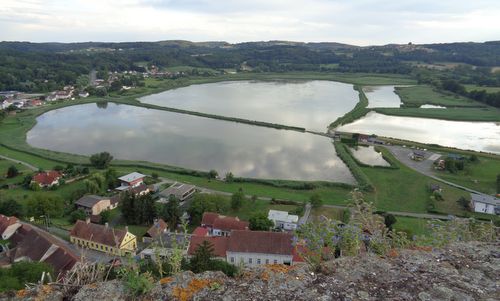 Formerly known as Südburgenland Öko Energie Marathon, Run in the sun was last year's largest running event in the Burgenland, Austria's easternmost province.
Over 1,000 runners took part in the full marathon, the half marathon, the 4-person marathon relay and in the shorter running and nordic walking races.
All races start and finish in Güssing, a small town surrounded by rolling hills and farmland, located close to the Hungarian border. An impressive 13th-century castle towers high above the town on a volcanic rock. Güssing is also home to the modern 'European Centre for Renewable Energy'.
The route is traffic-free, certified and very mildly undulating. The difference in elevation between the highest and the lowest point is just eleven metres.
Participants run out and back, at first eastwards to the village of Urbersdorf and then westwards to the village of Sulz. Marathoners run two laps.
In 2009, Ashenafi Erkolo, an Ethiopian athlete who lives in Hungary, defended his marathon title in a time of 2:25:59. Croatia's Marija Vrajić led the women home in 2:52:43.
Race information:
Date:
26 September 2010 (Sunday)
Country:
Venue (Map):
Güssing (80km from Graz, 160km from Vienna, 205km from Zagreb, 228km from Ljubljana, 257km from Budapest)
Start and finish:
Race distance:
42.2km Marathon
21.1km Halbmarathon (half marathon)
4x10.55km Staffelmarathon (marathon relay)
10.6km Straßenlauf
4.9km Hobbylauf
1.25/2.5km Minimarathon (children)
Start time:
9.00 (children)
9.30 (all other races)
Entries:
online or by fax or e-mail until 15 September 2009 (receipt of payment), payment by bank transfer
late entries until one hour before the start
Entry fees (up to 31 July - 15 September - 26 September 2010):
42.2km: €22-24-29
42.2km relay: €40-48-?? per team
21.1km: €17-19-24
10.6km, 4.9km: €10-12-17
children: €4-6-6
Timekeeping:
ChampionChip — use your own chip or rent a chip for €3 (deposit €25?)
Race centre:
Festgelände (Saturday 10.00-18.00, on the day 7.30-9.00)
You get:
T-Shirt
pasta party (Saturday 17.00-19.00)
massage service
finisher medal (42.2km, 21.1km, children's races)
showers and changing facilities
Prizes:
trophies to the winners (21.1km, 42.2km)
trophies to the first three in each category
Award ceremony:
Number of finishers 2009:
42.2km: 97
21.1km: 266
10.6km: 162
4.9km: 128
children: 195
nordic walking: 205
Event website (in German):
www.austriasites.com/run-in-the-sun
This e-mail address is being protected from spambots. You need JavaScript enabled to view it
Tourist information:
No guarantee is made as to the accuracy or thoroughness of the information on this page.