13th Nanos Mountain Race
Podnanos (Slovenia), Sunday 10 October 2010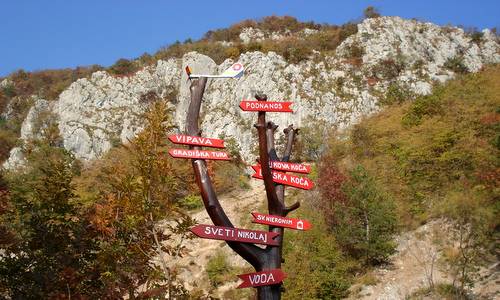 Which way to Nanos?
The Nanos Mountain Race is a small uphill trail running event, held in October in south-western Slovenia, approximately 30 kilometres from the Italian port city of Trieste.
The start is in the village of Podnanos in the Vipava Valley, which is well-known for its delicate wines and the cultivation of fruits like apricots, peaches and cherries.
The route runs all the way along trails through lovely shady woods, but it is pretty challenging. Most participants hike considerable parts of the course as it includes almost 700 metres of vertical gain over a distance of 5.6 kilometres.
The finish is at 820 metres above sea level at a mountain hut on the massive Nanos Karst Plateau.
Lunch and the awards ceremony will take place at the finish.
You shouldn't miss the opportunity to go for a walk across the beautiful grassland on the plateau to enjoy the splendid views of the Karst region before you descend back to the valley.
In 2009, the winners were Mitja Kosovelj (28:46) and Katja Rakušček (39:50).
Lots of applause and cheers at the finish!
Country: Slovenia
Venue (Map): Podnanos (32km from Trieste, 70km from Ljubljana, 75km from Udine)
Date: 10 October 2010 (Sunday)
Race distance: ca. 5.6km (ca. +700m)
Start: 10.00 in Podnanos
Finish: Lovska koča "Vojkovo" na Nanosu (hunting lodge "Vojkovo" on Nanos)
Entries: on the day 8.30-9.30
Entry fees: 10 EUR; children 5 EUR
Race centre: Vojkov dom (on the main road through Podnanos)
You get: transport of personal clothing to the finish; a warm meal after the race; prize raffle (?)
Prizes: (?)
Showers and changing facilities: no
Number of finishers 2009: 76 (5.7km); 13 children
Event website (in Slovene): www.pd-podnanos.si
No guarantee is made as to the accuracy or thoroughness of the information on this page.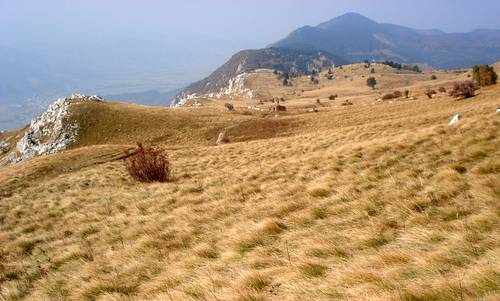 The Nanos Karst Plateau.