17th South Tyrol Marathon 2010
Merano - Bolzano (Italy), Sunday 3 October 2010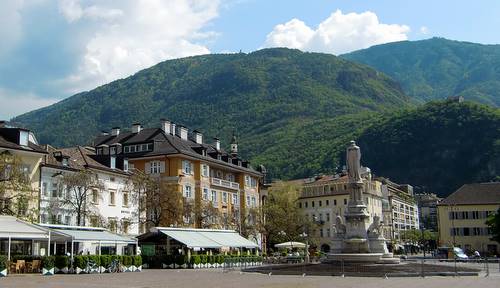 Waltherplatz (Piazza Walther) in Bolzano
Italy's northernmost road marathon features a completely new course. It's now a point-to point race along the Etschtal, a fertile alpine valley, approximately 2.5 kilometres wide and framed by steep mountains. The course is mildly undulating and slightly downhill, dropping about 70 metres.
In addition to the full marathon, the event includes a half marathon and a 10k race.
The marathon starts at the thermal baths in the beautiful spa town of Meran (Italian: Merano), one of the most popular tourist destinations in the mainly German-speaking province of South Tyrol (Alto Adige).
The race travels through apple orchards and villages to South Tyrol's capital Bozen (Bolzano). The final 10 kilometres are in town. You run through Bozen's old town and across the main square, as well as through the buildings of the sponsoring bank and a car dealer. It's difficult to predict how exciting that will be. The location of the finish area on the fairground in the industrial part of town is more practical than picturesque.
Previously, the marathon was held on a flat and fast two-lap course through the apple orchards to the south of Bozen, but the event didn't attract many competitors. In 2009, there were just 106 finishers in the full marathon and 357 in the half.
Giovanni Gualdi (2:16:20) and Irene Psaier (3:07:10) won the 42k, Said Boudalia (1:06:44) and Docus Inzikuru (1:16:07) celebrated victory in the half marathon.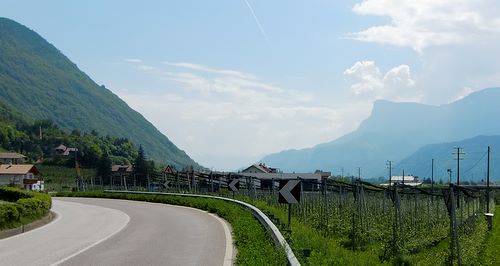 The route runs along the Etschtal (Val d'Adige).
Country: Italy
Venue (Map): Meran (Merano) - Bozen (Bolzano)
Date: 3 October 2010 (Sunday)
Race distance:
42.2km (AIMS/IAAF certified)
21.1km
10km
Start (42.2km): 9.00 Meran, Thermenplatz
Start (21.1km): 11.15 Terlan
Start (10km): 9.45 Bozen, Grieser Platz
Finish: Messe Bozen (fairground)
Race course: course map (out of date)
Entries: online, payment by credit card or bank transfer; entrants may have to provide a medical certificate at registration
Entry fees (42km):
€ 40 (up to 30 June 2010)
€ 50 (up to 20 September 2010)
€ 60 (up to 2 October 2010)
Entry fees (21km):
€ 25 (up to 30 June 2010)
€ 35 (up to 20 September 2010)
€ 45 (up to 2 October 2010)
Entry fees (10km):
€ 15 (up to 30 June 2010)
€ 20 (up to 20 September 2010)
€ 25 (up to 2 October 2010)
Timing: Real Time Championchip (€ 10 deposit, fully refundable)
Race centre: Messe Bozen (Friday 1 Oct 14.00-20.00, Saturday 2 Oct 10.00-20.00, on the day 7.00-10.00); marathon runners can get their race number on the day from 7.00 to 8.30 at the start in Meran but in that case they will have to pay an additional € 5
You get: finisher T-shirt and medal, free train ride from Bozen to the start (free bus service for 10k runners), transport of personal clothing to the finish, a present to all runners 60 years and over
Prizes: prize money to the first 5 M/F in the marathon and to the first 3 M/F in the half marathon; sports bag to the winners in each age group
Showers and changing facilities: yes
Award ceremony: 15.00
Number of finishers 2009: 357 (21km), 106 (42km)
Event website (in German and Italian): Südtirol-Marathon (out of date)
Tourist information (in English, German and Italian): www.bolzano-bozen.it
No guarantee is made as to the accuracy or thoroughness of the information on this page.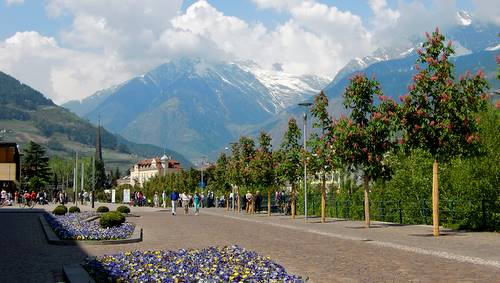 The start of the marathon is on Merano's Thermenplatz.