Supermarathon Zagreb-Čazma 2010 - cancelled!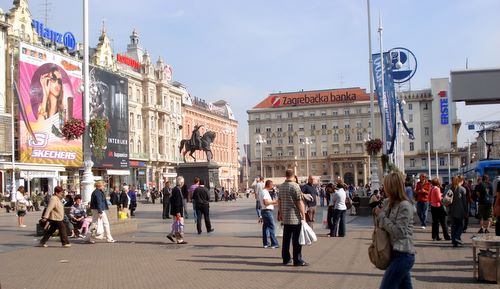 The start of the Supermarathon is on Zagreb's main square, Trg bana Jelačića.
This long-standing ultra marathon, held on the first Sunday in spring, travels 61.35km from Croatia's capital Zagreb to the historic town of Čazma.
The race has always been well attended by some of Europe's best ultra marathon runners, notably from Hungary and Russia. Nevertheless, with just about 50 finishers it's a small event.
Although there are no entry fees the race features plenty of prizes, free lunch for all participants after the race, and a free bus service back to Zagreb in the afternoon.
The start is on Trg bana Jelačića, Zagreb's main square. Participants run about 27 kilometres eastward on a mildly undulating, busy main road. The race then runs on much quieter roads but the route becomes more challenging with several testing hills and a long tough climb up to the finish in the hill town of Čazma.
In 2009, the winners were Norbert Persely of Hungary (3:54:43) and Croatia's Marija Vrajić (4:43:36).
The Supermarathon 2010 has been cancelled because of lack of sponsorship!
Country: Croatia
Venue (Map): Zagreb - Čazma
Date: (Sunday 21 March 2010) cancelled
Distance: 61.35km
Start: 9.00 Zagreb, Trg bana Jelačića (Ban Jelačić Square)
Finish: Čazma
Number of finishers 2009: 47
Event details (in Croatian and partly in English): www.cazma.hr
No guarantee is made as to the accuracy or thoroughness of the information on this page.