Race preview
Bratislava (Slovakia), Sunday 28 March 2010
Two bridges to climb: Nový most (in the front) and Starý most
When we tested the marathon in the Slovak capital we found that the very friendly and helpful organizers and staff of the Bratislava Marathon give this event much more of a personal touch than many other big city marathons.
With just over 1,000 finishers in the half and the full marathon it's still a relatively small event, and you shouldn't expect any crowds lining the streets to cheer you on, but surely many people will do their best for you to enjoy the event.
The 5km "Hobby Run", the children's races, and the pasta party will be held on Saturday, and then on Sunday the 21k and 42k races, the half marathon relay, and the inline speed skating competition. All races are completely traffic-free and well-marshalled. The entry fees are much lower than in the big marathons in neighbouring Austria, Hungary or the Czech Republic.
The full marathon includes two 21-kilometre laps. Start and finish are in front of the Slovak National Theatre on the tree-lined Hviezdoslav Square. At first, you run a loop of about 5km around the very pretty city centre. After crossing Nový most ("New Bridge"), a huge suspension bridge over the River Danube, you go on a tour around the vast Petržalka housing estate. You run back on a cycle path along the Danube before crossing Starý most ("Old Bridge") to come home to the finish.
Overall, the route is flat but some sections of the course are very open and wind-prone, and running up the ramps leading up to the bridges will inevitably slow you down.
And finally, don't be late! The night before the marathon the clocks jump one hour forward due to the start of European Summer Time!
In 2009, the marathon winners were Belorussia's Aliaksey Haurichenko (2:21:40) and Judit Nagy of Hungary (2:50:21).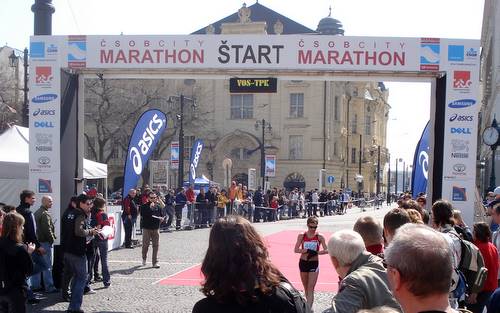 Country: Slovakia
Venue (Map): Bratislava (Vienna 65km, Budapest 199km, Zagreb 353km)
Date: 27-28 March 2010 (Saturday-Sunday)
Distance: 42.2km; 21.1km; half marathon relay (4 runners); 5km; children 0.4km - 2km
Start time: Sunday 10.00h (42km, 21km, relay); Saturday 12.00h (children) and 16.00h (5km)
Start and finish: Hviezdoslavovo námestie (Hviezdoslav Square)
Entries: online (until 23 March 2010), payment by bank transfer; late entries in the race centre (Friday and Saturday); no entries on the day!
Entry fees (42km): 22/30/40 EUR (until 14 February / until 14 March / until 27 March)
Entry fees (21km): 12/16/22 EUR
Entry fees (21km relay teams): 28/36/44 EUR
Entry fees (5km): 6/8/10 EUR
Entry fees (children): 3/4/5 EUR
Timing: VOS-TPK (5 EUR deposit for the chip!)
Race centre: Primatial Palace (Primaciálny palác) on Primatial Square (Primaciálne námestie) (Friday 12.00-20.00, Saturday 8.00-20.00, Sunday 7.00-8.30)
You get: pasta party (on Saturday); T-Shirt; chip timing; finisher medal
Prizes (42km): first 10 men and 6 women; first 3 in each category (prizes are not cumulative)
Prizes (21km): first 6 men and 6 women; first 3 in each category (prizes are not cumulative)
Prizes (21km relay): first 3 teams
Prizes (5km): first 3 men and 3 women; prize raffle
Number of finishers 2009: 694 (21km), 337 (42km)
Event website (in English, German, and Slovak): www.bratislavamarathon.com
No guarantee is made as to the accuracy or thoroughness of the information on this page.