5th Race up Gorjanci
Cerov Log (Slovenia), Sunday 13 June 2010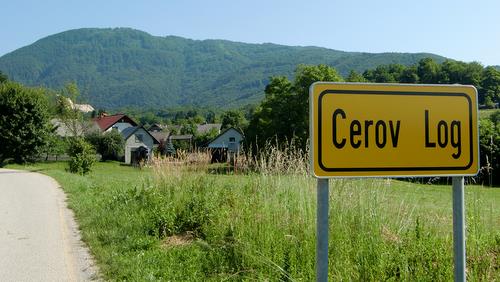 Located on the border between Slovenia and Croatia, the Gorjanci (Croatian: Žumberak) is a densely wooded hill range, popular with hikers and mountain bikers from the Slovenian town of Novo Mesto as well as from Croatia's capital Zagreb.
The highest peak (Slovene: Trdinov vrh; Croatian: Sveta Gera) is at an elevation of 1,178 metres. The summit is claimed by both countries.
The 6.2-kilometre mountain race up Gorjanci is staged on the Slovenian side of the hill range, i.e. on the steep northern slopes, which are known for its many springs and lovely clear streams.
The start is in the forest on the gurgling brook Pendirjevka, approximately 4 kilometres south of the village of Cerov Log, and 20 kilometres from Novo Mesto.
The route runs all the way along dirt roads and features a moderate elevation gain of 430 metres.
The finish is at the church of Sveti Miklavž (Saint Nicholas), which stands at an elevation of 964 metres on top of a hill, just below Trdinov vrh and the border with Croatia.
The views are limited but the lush vegetation is wonderful.
In 2009, the race saw 100 finishers. The winners were Boštjan Kozan (26:00) and Magda Lužar (37:33).
Country: Slovenia
Venue (Map): Cerov Log (Novo Mesto 20km, Zagreb 69km, Ljubljana 85km)
Date: 13 June 2010 (Sunday)
Race distance: 6.2km (+430m); children 300/500/1000m
Start time: 9.30; children 11.00-11.30
Start: Bridge across the Pendirjevka brook, ca. 4km south of Cerov Log (past the large quarry)
Finish: Miklavž (964m)
Entries: on the day at the start
Entry fees: 8 EUR; children 5 EUR
You get: a present, a warm meal and drinks after the race
Prizes: trophies to the first man and woman
Showers and changing facilities: no
Number of finishers 2009: 100 (6.2km), 19 children (300m)
Event website (in Slovene): www.drustvo-marathon.si
No guarantee is made as to the accuracy or thoroughness of the information on this page.