12th Nanos Mountain Race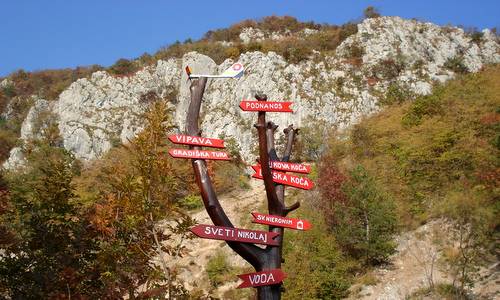 Which way to Nanos?
Steep mountain trails through shady woods take you from the lovely and fertile Vipava Valley, famous for its delicate wines and the cultivation of apricots and peaches, up to the massive Nanos Karst Plateau.
We're not yet sure if the course will be the same as last year. Information on this year's event is very limited. Previously, competitors ran 5.7km, this time the course might be a bit shorter (4.8km). Never mind, what counts is the elevation gain of approximately 650 metres, and that won't change.
Run or hike up to the finish as fast as you can, and you will be greeted with lots of applause and cheers and a warm meal. After the event you shouldn't miss the chance to go for a walk along the ridge and across the fantastic grassland on the plateau.
Hopefully, the organizers have cared for a toilet near the start. Last year, the only cafe had locked it's door to the lavatories.
The winners in 2008 were Simon Alič (29:03) and Mihaela Tušar (38:27).
Country: Slovenia
Venue (Map): Podnanos (32km from Trieste, 70km from Ljubljana, 75km from Udine)
Date: 11 October 2009 (Sunday)
Race distance: 4.8km (+650m)
Start: 10.00 in Poreče (at the edge of the village of Podnanos) (175m)
Finish: Lovska koča "Vojkovo" na Nanosu (Hunting Lodge "Vojkovo" on Nanos) (820m)
Entries: on the day from 8.30 to 9.30
Entry fees: 10 EUR, children 5 EUR
Race centre: Vojkov dom (in the centre of Podnanos, on the main road)
You get: transport of personal clothing to the finish; a warm meal, prize raffle (?)
Prizes: ?
Number of finishers 2008: 81; 26 children
Event website (in Slovene): www.pd-podnanos.si
No guarantee is made as to the accuracy or thoroughness of the information on this page.