29th St Martin's Race
This fine event gives you a good reason to escape the November fog and spend a nice day out on Slovenia's coast. And you don't need to be super fit to take part in the run. The course is just 7.5km long and very flat. Many runners take it as a fun event.
The traditional St Martin's Race is held around St Martin's Day (November 11), which marks the day when grape juice turns to wine. The event is staged near the charming old fishing town of Izola, built on a small island in the 7th century. Since the channel that separated the island from the mainland was filled 200 years ago it has been possible to run along the seafront to the old town and back. Nevertheless, this year will be the first time that the race follows this course.
The start is on the grassy "San Simon Beach" in Simon's Bay (Simonov zaliv) in the south-west of town, where the remains of an old Roman port can be seen at very low tide. Most of the course is out-and-back. You run along the coast and the marina, and then on the waterfront promenade around the old town. Instead of a turning point you do a short lap around a nice little residential area before heading back to the start/finish area.
After the race, participants get a warm meal and the opportunity to sample local wine. However, remember that drinking the young wine is considered as sinful before it is baptised on St Martin's Day!
Last year, on a different course, Janez Ferlič from the alpine part of Slovenia and Polona Kukovec from Ljubljana proved the strongest on the hills between Izola and Piran.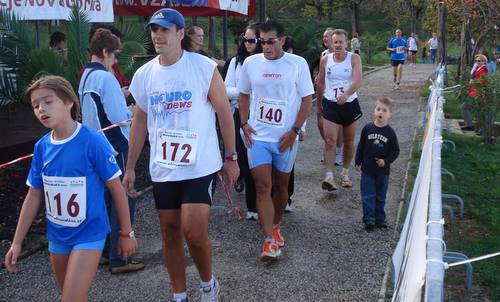 Race report and photos: 30. Martinov tek Izola 2010
Country: Slovenia
Venue (Map): Izola (Koper 9km, Trieste 29km, Ljubljana 111km)
Date: 8 November 2009 (Sunday)
Distance: ca. 7.5km; ca. 1km for children with special needs
Start time: 11.00; guided walk 10.30
Start and finish: Simonov zaliv ("Simon's Bay"), Plaža San Simon ("San Simon Beach"), south-west of Izola and the marina
Entries: on the day from 9.00 to 10.30 (walkers from 9.00 to 10.00)
Entry fees: 8 EUR; (families: each parent 4 EUR, each child 1 EUR, without present)
Race centre: at the start
You get: a present, a warm meal, tea, wine, prize raffle
Prizes: trophies to the first 3 M/F; medals to the first 3 in the categories
Number of finishers 2008: 216
Event details (in Slovene): www.cksp-izola.si/sport (out of date)
No guarantee is made as to the accuracy or completeness of the information on this page.