4th Ultra Promo Marathon "Istria in your heart!"
Savudrija - Novigrad (Croatia), Sunday 20 December 2009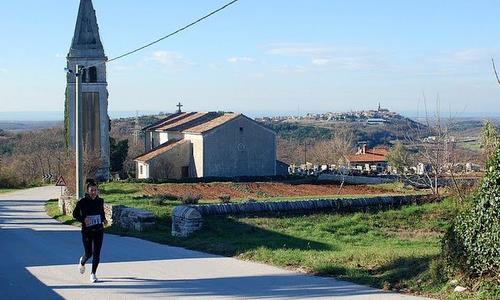 This fun event in Croatia goes on a tour through the beautiful interior of the Istrian peninsula, close to the border with Slovenia. You have the choice between five distances, from 21.8km to a short ultra of 53.8km. All races are non-competitive. Times are only kept in the ultra marathon.
The event comes at the right time. Held on 20 December, it offers a wonderful escape from the hustle and bustle preceding Christmas, and it won't matter at all being a bit tired over the festive days.
The start is at the lighthouse in the small fishing village of Savudrija at Istria's north-western tip. You then run on a hilly course through varied landscape with fields, vineyards, orchards and pine forests. At the 24km-mark you come to the medieval hilltop town of Buje, and after 32km to the village of Grožnjan, also located on a hill. You can finish or start your run in these places, or use them as relay points if you have a partner to share the distance. The race then follows the River Mirna to the finish in the pleasant coastal town of Novigrad.
The race is partly on asphalt and partly on dirt roads. On the route, there are several feed stations, and after the race all participants get a present and a warm meal.
The enthusiastic race organizers are working hard to promote running in a region where many locals seem to prefer to have a lie-down under a fig tree than go for a jog in the countryside. In 2008, 92 out of 104 finishers came from nearby Slovenia, ten participants were Croats and two Italians.
Race report and photos: Ultra Promo Marathon 2009
Country: Croatia
Venue (Map): Savudrija - Novigrad (Savudrija-Trieste 48km, -Udine 128km, -Ljubljana 133km)
Date: 20 December 2009 (Sunday)
Raced istance and start time:
53.8km Savudrija - Novigrad (start 10.00)
24km Savudrija - Buje (start 10.00)
32km Savudrija - Grožnjan (start 10.00)
29.8km Buje - Novigrad (start 12.00)
21.8km Grožnjan - Novigrad (start 12.00)
Finish: Novigrad, Rivarela Square (on the seafront)
Entries: entries by e-mail, phone or fax
Entry fees (53.8km): 120 HRK (until 10 December), 140 HRK (late entries)
Entry fees (all other distances): 100 HRK (until 10 December), 120 HRK (late entries)
<Exchange rate: 100 HRK = ca. 13.80 EUR (4 November 2009)>
Race centre: at the lighthouse in Savudrija (open from 9.00h)
You get: medal, T-Shirt, a present, transport of personal clothing, bus service to the start or to the finish, pasta party (Novigrad, "Dom Kulture", 16.00h); energy bars and gels to ultra runners
Prizes: trophies and sponsor prizes to the first 3 M/F in the 53.8km ultra marathon
Presentation: 17.00 (awards to the first 3 M/F, and presents to all participants)
Number of finishers 2008: 64 (53.8km), 24 (21.8km), 7 (29.8km), 6 (32km), 3 (24km)
Event website: www.maratonumag.hr
No guarantee is made as to the accuracy or thoroughness of the information on this page.