Sunday 5 June 2022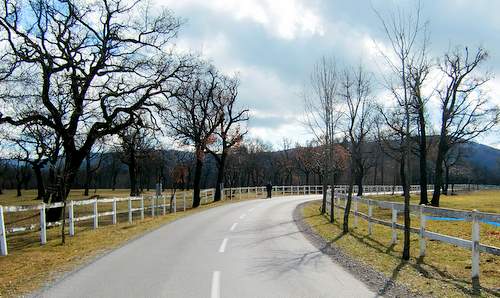 Slovenia's first major running event of the year, the Mali kraški maraton (Karst Half Marathon), draws a crowd of 2,000 or more runners to the small town of Sežana which is situated in the Primorska region near the border with Italy, just about 14 kilometres from the city centre of the Adriatic port of Trieste.
Competitors have the choice between three loop courses through the Karst plateau (Slovene: kras, Italian: carso) which rises above the Adriatic Sea.
The 4.9km and 9.6km races take the runners on asphalt and gravel roads through woods on the Slovene side of the border.
The half marathon route runs through two countries—Slovenia and Italy. Participants run through the beautiful pastures of the famous Lipica Stud where Lipizzaner horses have been bred for over 400 years (pictured), through the villages of Basovizza, Padriciano and Trebiciano in Italy and through the hamlet of Orlek in Slovenia. The race is run on asphalt roads. A short section is on gravel.
Map of the venue:
20. Mali kraški maraton:
Date:
27 March 2022 (Sunday)

New date: 5 June 2022 (Sunday)
Event website (in Slovene and English):
Number of finishers:
2022:

4.9km: 96
9.6km: 499
21.1km: 339

2021:

Event cancelled due to Covid-19 restrictions

2020:

Event cancelled due to Covid-19 restrictions

2019:

10.4km: 1,173
21.1km: 892

2018:

10.4km: 1,110
21.1km: 932
No guarantee is made as to the accuracy or thoroughness of the information on this page.