Friday 24 June 2022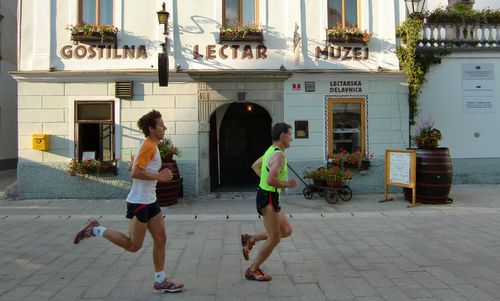 The Radol'ška 10ka is a 10k race held each June in Radovljica, a small town of about 6,000 people, located in the alpine Gorenjska region in Slovenia.
The event takes place annually on the eve of dan državnosti (Statehood Day) which is celebrated on 25 June to commemorate Slovenia's independence from Yugoslavia.
Starting at the lipa samostojnosti ('Lime Tree of Independence'), participants run ten laps (10 x 1km) through the town centre.
In addition to the 10k, the event offers three race distances for children (500m, 1km, 1.5km).
Radovljica is well worth a visit for its picturesque historic core as well as for the superb views it offers of the Sava Valley and of the surrounding mountain scenery—the densely-wooded Jelovica plateau to the south, the Karavanks mountain chain to the north, and Triglav (2,864m), the highest peak of Slovenia and of the Julian Alps, to the west.
Map of the venue:

Radol'ška 10ka 2022:
Date:
Start time and race distance:
19.00: 500m - 1km - 1.5km children's races
20.00: 10km
Event website:
Race information 2022:
Archive:
Race information:
No guarantee is made as to the accuracy or thoroughness of the information on this page.