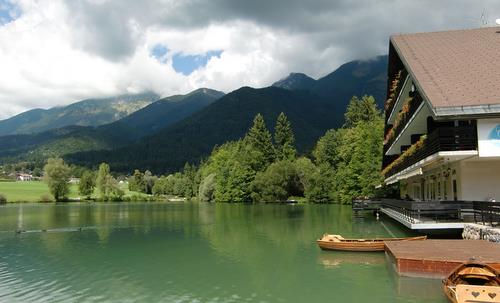 The Tek Gorenjskega glasa is a multi-terrain running event in the alpine Gorenjska region in Slovenia.
The race is 11 kilometres long, starting and finishing at the Osnovna šola Matije Valjavca ('Matija Valjavec Primary School') in the village of Preddvor.
Situated at the foot of the Kamnik-Savinja Alps, approximately 33 kilometres north of Ljubljana, Preddvor is a popular day-tripping destination for its lovely little lake (Jezero Črnava, pictured above) with a castle, a hotel and a café on its shore.
The first half of the race goes a bit downhill (-70m), the second half uphill (+70m).
The route runs on mixed terrain (more on gravel roads and trails than on asphalt roads) along the fast-flowing Kokra river and.through fields, woods and villages.
Map of the venue:
The race was last held in September 2010.
(Last update: December 2019)
4. Tek Gorenjskega glasa:
Date:
26 September 2010 (Sunday)
Number of finishers:
Race review and details:
No guarantee is made as to the accuracy or throroughness of the information on this page.