Saturday 17 June 2023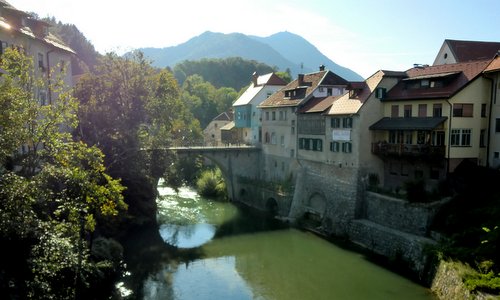 The Tek štirih mostov (Four Bridges Run) is a popular road running event held annually on a Saturday night in June in Škofja Loka, one of the oldest and prettiest small towns in Slovenia, situated approximately twenty kilometres from the capital Ljubljana.
Every year a crowd of about 1,000 runners line up to compete in the 10k race, and around 100 teams take part in the relay run (4km+6km).
Starting at 9pm on Mestni trg, the main square in the medieval Old Town, it is a very atmospheric event that draws many spectators to the historic town centre.
The route consists of two different laps (4km+6km) of an undulating course that takes the runners through the Old Town, through residential and rural areas, and across two rivers and four bridges.
Map of the venue:
11. Tek štirih mostov:
Date:
Event website:
Number of finishers:
2023: 574 runners and 87 teams
2022: 544 runners and 69 teams
2021: 239 runners (5k race)
2020: Event cancelled
2019: 1,093 runners and 101 teams
2018: 948 runners and 120 teams
2017: 969 runners and 100 teams
2016: 1,030 runners and 78 teams
2015: 1,062 runners and 51 teams
Archive:
Race information:
No guarantee is made as to the accuracy or thoroughness of the information on this page.