Sunday 2 April 2023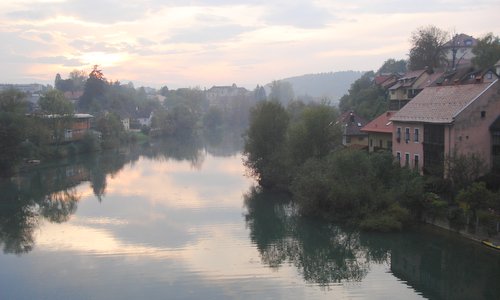 The Parktek is a running event held annually in the Dolenjska (Lower Carniola) region in Slovenia.
It features a 9k race and two kids' races (300m, 600m).
The start and the finish line are in Novo mesto, a picturesque old town that squeezes into a hairpin bend of the beautiful Krka river.
Located approximately 70 kilometres vom Slovenia's capital Ljubljana and 75 kilometres from Croatia's capital Zagreb, Novo mesto is home to about 24,000 people, which makes it the largest town in Dolenjska.
The 9k route runs out and back along the left bank of the river. The race is run mainly on gravel paths. Apart from a few short ascents, the course is flat. The turning point is near the village of Češča Vas.
All proceeds will be donated to a good cause.
Map of the venue:
13. Parktek:
Date:
Start/finish area:
at the Gostišče Loka restaurant
Start time:
12.00: 300m and 600m kids' races
13.15: 9km
Race information:
Number of finishers in the 9k race:

2022: 58
2021: Event cancelled
2020: Event cancelled
2019: 77
2018: 78
No guarantee is made as to the accuracy or thoroughness of the information on this page.