Saturday 22 April 2023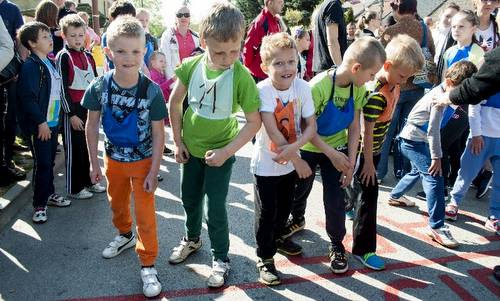 Photo by courtesy of Petra Bašnáková
The Beh oslobodenia Chtelnice takes place annually in April in the village of Chtelnica which sits at the foot of the densely-wooded Malé Karpaty (Little Carpathians) in the western part of Slovakia, 70 kilometres from Bratislava.
Held for the first time in 1974, it's a long-standing running event that attracts approximately 200 runners of all ages.
Five race distances are available for children, from the 80 metres for preschoolers to the 5.5-kilometre run for juniors.
The 10.3km race is open to all runners aged 16 years or over.
The course is hilly, challenging and very scenic as it takes the runners on mixed terrain (asphalt roads and trails) into the hills and around a reservoir in the forest. The difference between the lowest and the highest point on the course is about 70 metres.
In the forest, the route passes a memorial that commemorates three young men who were shot by Wehrmacht soldiers, one day before the Oslobodenie Chtelnice (Liberation of Chtelnica) by a Red Army unit on 6 April 1945.
Map of the venue:
38. Beh oslobodenia Chtelnice:
Date:
Event website:
Number of finishers in the 10.3km race:
2023: 97
2022: 93
2021: 50 (virtual run)
2020: 5 (virtual run)
2019: 94
2018: 107
2017: 88
2016: 109
2015: 95
2014: 71
2013: 93
2012: 63
Archive:
Race information:
No guarantee is made as to the accuracy or thoroughness of the information on this page.